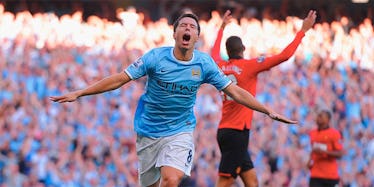 5 Things To Watch For Week Nine Of The English Premier League
Facebook/UEFA Champions League
We're nearly 10 games into the English Premier League season, and still, there seems to be more questions than answers.
Is Arsenal for real? How long will it take for Jürgen Klopp to make Liverpool great again? Will Harry Kane ever get back to normal? Is this his normal?
No knows for sure, and that the beauty of watching the Premier League.
Each round of games both satisfies our questions, and gives us new ones to ponder for the following week.
It's an addictive cycle, and one that'll be spinning once again this weekend.
So get ready, here are five things to watch for this weekend in the English Premier League:
Rivalry renewed
I could try convincing you that the Tyne-Wear derby is the most interesting, but that would just be a blatantly hipster move.
The truth is, all eyes will be on Old Trafford on Sunday.
A Manchester Derby in October is not going to decide the Premier League, but this game is intriguing for other aspects.
A solid win for Manchester United against Everton went some way in erasing the memory of the horror show performance against Arsenal, prior to the international break.
But questions still remain about Louis van Gaal's side, after a lackluster Champions League outing against CSKA Moscow midweek.
Does he know his best side now? Is Wayne Rooney's general form ever going to see him get dropped?
Does Juan Mata start? Is Ander Herrera finally going to become a mainstay of this side?
Manchester City, for their part, will be without the deadly duo of David Silva and Sergio Aguero, so this weekend's derby is a test of City's depth.
Beating Bournemouth to a pulp, as City did last weekend, is not an indication that life will be fine without Aguero for City.
Wilfried Bony will need to be able to show that he can mix it with the big boys, too.
A late mid-week Champions League winner against Sevilla is a comforting indication that new signing Kevin De Bruyne was a good move.
He may very well be City's most important player in the absence of Silva.
There are plenty of questions for both sides as we await the 170th Manchester Derby.
By Sunday evening we will have some answers.
Firing again
Roy Keane still thinks Arsenal are "soft."
Even a 2-0 must-win victory over the mighty Bayern Munich in the Champions League isn't enough to convince Keano about the credentials of this Arsenal side.
I said that Arsenal v. Manchester United prior to the international break felt like an EPL "must win" for the Gunners.
I didn't think they would win, but Arsenal ripped United to shreds in the first half, even if that super start was aided by LVG playing the "old man river midfield" of Carrick and Schweinsteiger.
It was 3-0 to Arsenal at half time when it really could have been 6-0. No joke.
So am I convinced by Arsenal, yet?
I'm getting there, but I am not fully convinced.
Everton visits the Emirates this weekend, and while no team in English league history has more wins over another team than Arsenal over Everton, this game could be a real test of Arsenal's mettle.
The Everton team is no punching bag; the blues will be looking to react positively after a flat defeat to Manchester United last weekend.
Can Arsenal post big wins back-to-back?
You can argue that they haven't really done that yet this season.
Manager Arsène Wenger's birthday week has certainly been spoiled by the news that midfielder Aaron Ramsey will miss a month with a hamstring injury.
But if this team is going to be a serious contender, they can absorb this injury blow and beat Everton on Saturday.
Then Keano and I may begin to believe.
The Klopp shop
Klopptimism still abounds around Anfield after a positive start against Tottenham last week.
However, Thursday's Europa league draw with Rubin Kazan brought into sharp focus how much needs to be done before we see Klopp's Liverpool version of his trademarked "full throttle football."
Thirty-five shots and only one goal is not exactly the ratio that the German manager is looking for, but there were signs of progress for those who wanted to see it.
This Liverpool side is clearly invigorated by Klopp's arrival, and the intensity of play has increased massively.
The picture of Adam Lallana falling exhausted into his manager's arms upon being substituted against Tottenham was an indication of the Klopp factor at work.
Southampton will be the opponent, and we can expect more of the same from Liverpool.
It will be interesting to see how Klopp shuffles his pack with Benteke back in the fold, and Daniel Sturridge possibly able to feature.
It may be more Fall Out Boy than the heavy metal football favored by Klopp, but the signs point to the tune changing slowly on the field at Anfield.
Here comes the Kane?
I could quote you chapters and verses about Harry Kane's work rate, attitude, selfless play and all-around contribution to Spurs' decent start to the Premier League season, but I won't.
Harry has only scored once in the Premier League season so far against Manchester City.
The season may still be young, but that doesn't matter.
This is the Premier League, the league of "what have you done for me lately?"
Kane's currency last season was goals, and now he is struggling to buy another one.
Enter Bournemouth.
Not a bad side, but one coming off the back of a shellacking at the hands of Manchester City.
Tottenham travel to Dean Court this weekend, and it could be the chance for last season's PFA Young Player of the Season to get back on track against a side that could be low on confidence.
Spurs' failed attempt to bag striker Saido Berahino means the pressure is on for Kane to deliver the goals to fire Spurs up the table.
Rested against Anderlecht in the Europa league on Thursday, Kane will be raring to go this weekend.
He wants goals, and he will really need to get some this weekend to ease the pressure.
Big Sam, Big Game
Last April, Dick Advocaat's pretty terrible Sunderland side managed to claim a win over their hated rivals, Newcastle, at home at the Stadium of Light.
It was a win that brought tears to goal scorer Jermain Defoe's eyes, and a much needed three points to Wearside in the Black Cats' battle to avoid the drop.
How times have changed.
Wait -- they haven't changed.
Sunderland enters this weekend's Tyne-Wear derby as the Premier League's basement team.
Their opponents, Newcastle, are third from bottom only three points ahead, but should be boosted by the 6-2 thrashing they handed out to Norwich last weekend to claim their first W of the season.
Sunderland should have been boosted by the arrival of "Big" Sam Allardyce as manager, but instead limped to a 1-0 defeat against West Brom last week in his first game in charge.
Sunderland have had quite the turnover of managers in the last few seasons, but still have five consecutive victories over Newcastle.
Big Sam really doesn't want to be the man to break that winning streak.
Add into the mix the fact that Newcastle is one of Allardyce's former employers and this game looks even tastier.
Allardyce is a manager who likes to take credit for his sides' victories, and isn't afraid to 'big' himself up when the occasion arises.
He is, after all, the man who said he was more suited to managing Real Madrid, rather than Bolton and that if he was named "Allardici," he would be considered more of a tactical genius by the football world.
Even Paolo Di Canio managed a Sunderland win over Newcastle.
So a win this weekend should be no problem for Big Sam, right?