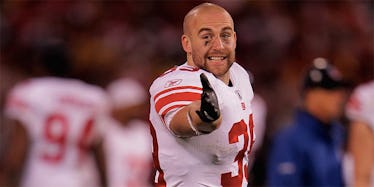 What We Can Learn From The Death Of A 27-Year-Old Football Player
Getty Images
Yesterday, Tyler Sash was found dead in his hometown of Oskaloosa, Iowa.
At this moment, it remains unclear how the former Iowa Hawkeye, New York Giant and Super Bowl champion came to such an early end.
The Oskaloosa Police Department reportedly released the following statement:
Sash's death is under investigation, but no foul play is suspected.
And while the initial cause of the 27-year-old's death is most likely the first question on a lot of people's minds, it's not the most important one.
Despite playing just two years in the NFL, both with the New York Giants, Tyler Sash made a lasting impact on his former teammates and the organization as a whole.
Following the news of Sash's death, former Giants teammate Antrel Rolle was in a state of disbelief.
My prayers and condolences go out to @TSash family. This is heartbreaking. Feels like I am dreaming. I am literally hurting right now — Antrel Rolle (@antrelrolle26) September 8, 2015
Osi Umenyiora, who also played with Sash in New York, echoed similar sentiments.
RIP Tyler sash. Can't believe this news. Great guy pic.twitter.com/6nXVgj6G3i — Osi Umenyiora (@OsiUmenyiora) September 8, 2015
In a statement, the New York Giants said,
We were all deeply saddened today to hear of the passing of Tyler. Our thoughts and prayers go out to Tyler's family and friends and all the Hawkeyes he was so proud to represent.
Iowa's all-time leader in interception return yards was mourned just as, if not more, fervently by the Hawkeye community.
Paki O'Meara, a former college teammate, said,
To think of somebody that was so selfless and gave so much, such a good guy, I'm just really shocked.
Another teammate, Derrell Johnson-Koulianos, shared a heartfelt farewell on Twitter.
From the day we met all we talked about was making plays for Iowa and together we did. I'll love you forever brother. pic.twitter.com/KpwsGEu1oE — DJK (@DJKoulianos15) September 8, 2015
There will be no swift end to the shock and sadness over Tyler's death, but soon it will be time to address the elephant in the room.
Did Tyler Sash intentionally take his own life? If so, was it the sport he loved that drove him to do so?
I wonder if Tyler Sash's death is another one of those sad cases of suicide due to football concussions... #RIPSash — Uncle Drew (@drew_gray_33) September 8, 2015
Sash was a star safety for the Hawkeyes, racking up 13 interceptions and an Orange Bowl trophy during his time in Iowa City.
He also had one of the craziest interceptions in college football history.
In 2011, after forgoing his senior season at Iowa, Sash was selected in the sixth round by the New York Giants. During his rookie season, Sash helped the Giants to an upset victory over the Patriots in Super Bowl XLVI.
From there, though, Tyler Sash's story takes a sudden turn for the worse.
Before he was suspended for the first four games of the 2012 NFL season for taking Adderall, Tyler Sash texted Marc Morehouse of The Gazette -- an Iowa newspaper -- to explain why he took the drug and how angry he was at the situation he was now facing.
Reports suggest Sash was prescribed the drug to deal with the anxiety of public speaking.
Following the 2012 season, Sash was cut by the Giants. He would never play another down in the NFL.
In May 2014, the former Hawkeye was arrested and charged with public intoxication after he led police on a motorized scooter chase. Eventually, he ended up with a $65 fine. That incident caught the attention of the media, but the laundry list of ailments Sash had been dealing with as a direct result of hitting people for a living did not.
Tyler suffered at least two recorded concussions during his brief NFL career, one occurred just a week before that Super Bowl victory in the 2011 season.
Should he have even been on the field at Lucas Oil Stadium?
In addition to the bumps, bruises and long-lasting neurological effects of a football life, Sash also suffered failed business ventures.
The former Interdepartmental Studies major once said the NFL stood for "Not For Long," which now sounds like the cruelest irony.
Yesterday, The Gazette's Marc Morehouse recalled a conversation he had with Sash during his time at Iowa.
He wrote,
I asked Sash once what his major was. He laughed and said, 'football.' I laughed. I didn't like the answer, but I didn't tell him to throw down and anchor and get something out of it. I laughed and now I really hate everything about that answer.
Tyler Sash leaves behind family, friends and a girlfriend, but he also leaves behind so many questions we don't have the answers to.
If there's anything to be gained from this great loss, it's this: Football is a violent game that takes its toll on the mind and the body. Players, both present and future, would be wise to have exit strategies that provide for lives after they hang up their pads.
Unfortunately, the most important question isn't whether or not Tyler Sash deliberately took his own life; it's what can we do to prevent others from facing similar situations.
Citations: Where did Tyler Sash go? (The Gazette), Tyler Sash, former Giants, Hawkeyes safety, dies at 27 (ESPN), Tyler Sash Dead: 5 Fast Facts You Need to Know (Heavy), Tyler Sash, won Super Bowl with Giants, dead at 27 (Yahoo!)