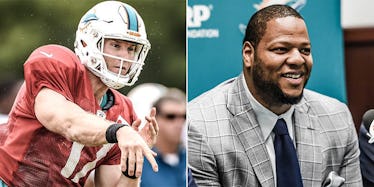 The 2015 Dolphins Are Built To Dethrone The Patriots And Win The AFC East
Facebook
Tom Brady is out for four games, which is already bad enough for the New England Partiots. But, if you're going to miss four games, you would probably prefer one of them be when Cameron Wake and Ndamukong Suh are in town.
The upgraded Miami defensive line made headlines this offseason, but the team's gradual improvement at the offensive skill positions will have Miami ready to compete with New England for the AFC East crown.
And, it could possibly lead to the franchise's first Super Bowl appearance since the 1984 season.
After a shaky rookie campaign, quarterback Ryan Tannehill has improved his passing numbers in each of his three professional seasons, hitting career-high marks last season for passing yardage, touchdowns and rushing yards, with a career-low 12 picks.
He isn't an off-field disturbance, and he's a very cerebral player. Miami gave him big money this offseason, so they must be pleased with his progression and confident in the direction he's taking the team.
The Dolphins receiving corps got a serious makeover with three new receivers, including 2015 first-round pick DeVante Parker, who should make an immediate impact when he recovers from a June foot surgery.
Kenny Stills adds a speedy option for Tannehill after coming over from New Orleans, where he had over 1,500 yards receiving between his first two NFL seasons.
The arrival of Greg Jennings from Minnesota will give Miami a veteran leader in what will otherwise be a very young position group. The 31-year-old is entering his 10th season in the NFL, and he has 63 career touchdown receptions.
The lone difference maker returning for the Dolphins at the wide receiver position is 2014 second-round pick Jarvis Landry.
Landry made an immediate name for himself as a rookie by accumulating over 1,100 return yards, while also going for 758 yards and five touchdowns as a receiver.
The Dolphins have talent capable of producing right away, and their young core of wideouts points to a very bright future to match sun-drenched South Beach.
The youth movement doesn't stop at the receiver position, either. Hometown hero Lamar Miller had his first 1,000-yard rushing season (at 1,099 yards) in 2014. He did so with an impressive 5.1 yards per carry average, all at the tender age of 23.
Tight end Jordan Cameron shocked many in Cleveland after bolting for Miami in March for what was reportedly the same contract he was being offered by the Browns.
Cameron gives the Dolphins a size upgrade from the departed Charles Clay. Cameron's massive frame will give Tannehill a large target in the middle of the field in red-zone and short yardage situations.
Cameron should benefit from being a part of a similar offensive scheme in Miami to the one run by Cleveland Browns' Offensive coordinator Norv Turner during the tight end's Pro Bowl season in 2013.
During Turner's reign of the Browns' offense, Cameron caught 80 balls for 917 yards and seven touchdowns, dwarfing his statistical output from the year before.
His production decreased last season as Turner left for Minnesota, and Cameron was sidelined for five games due to a concussion.
Miami also benefits from scheduling this season, as it will play against the relatively weak AFC South. They will take one unthreatening Jacksonville and Tennessee on the road, while getting to face the stronger half of the division, Andrew Luck's Indianapolis Colts and J.J. Watt's Houston Texans, at Sun Life Stadium.
The team also gets to use one of their road games in the season opener at Washington, which should pose little threat.
Tannehill and company will face tests in road games in Philadelphia and San Diego, but they get Baltimore, Dallas and the New York Giants at home.
I expect Miami to be undefeated heading into their seventh game of the season, an October 29 showdown with the Patriots in Foxborough, MA.