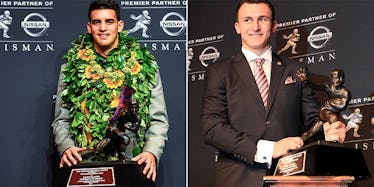 The 10 Schools That Produce The Most Heisman Winners In America
Getty Images
After a weekend of conference championships and seeding of the first-ever College Football Playoffs, this season had its Is dotted and its Ts crossed.
Now, we can turn our attention to that grand, old, bronze statue awarded to this year's Heisman winner.
Oregon's Marcus Mariota, Alabama's Amari Cooper and Wisconsin's Melvin Gordon form a group of prestigious finalists hailing from even more prestigious schools.
But, as great as the three players' programs are, none of them rank among the top universities for producing Heisman winners.
In fact, if Mariota were to win, he'd be the first Oregon Duck to capture the award.
That fact in itself is indicative of just how hard it is to produce Heisman winners, which makes the work of these 10 schools even more impressive.
Here are the college football programs which produce the most Heisman Award winners:
University of Notre Dame - 7
Tim Brown - 1987
John Huarte - 1964
Paul Hornung - 1956
Johnny Lattner - 1953
Leon Hart - 1949
Johnny Lujack - 1947
Angelo Bertelli - 1943
University of Southern California - 7
Reggie Bush - 2005
Matt Leinart - 2004
Carson Palmer - 2002
Marcus Allen - 1981
Charles White - 1979
OJ Simpson - 1968
Mike Garrett - 1965
The Ohio State University - 6
Troy Smith - 2006
Eddie George - 1995
Archie Griffin - 1974-75
Howard Cassady 1955
Vic Janowicz - 1950
Les Horvath - 1940
University of Oklahoma - 5
Sam Bradford - 2008
Jason White - 2003
Billy Sims - 1978
Steve Owens - 1969
Billy Vessels - 1952
United States Military Academy - 3
Pete Dawkins - 1958
Glenn Davis - 1946
Felix "Doc" Blanchard - 1945
Auburn University - 3
Cam Newton - 2010
Bo Jackson - 1985
Pat Sullivan - 1971
University of Florida - 3
Tim Tebow - 2007
Danny Wuerffel - 1996
Steve Spurrier - 1966
Florida State University - 3
Jameis Winston - 2013
Chris Weinke - 2000
Charlie Ward - 1993
University of Michigan - 3
Charles Woodson - 1997
Desmond Howard - 1991
Tom Harmon - 1940
University of Nebraska - 3
Eric Crouch - 2001
Mike Rozier - 1983
Johnny Rodgers - 1972