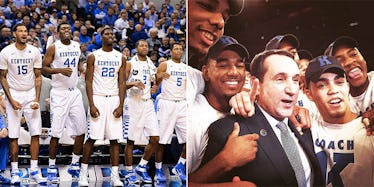 10 College Basketball Teams To Watch On The Road To March Madness
Instagram
College basketball fans, rejoice. With selection Sunday scheduled for March 15, March Madness is less than a month away.
So far, the 2014–15 NCAA men's basketball season has been full of dramatic comebacks, upsets, dominant performances and historic storylines, providing fans with just about all they could hope for entertainment-wise.
Let's all pray March Madness will be equally as epic.
Here at the 10 teams to watch in the final month of the regular season, in alphabetical order.
Duke Blue Devils
Duke has consistently impressed all season long, but the Blue Devils still have their fair share of challenges (and potentially awesome games) as they take on legendary coach Jim Boeheim and the Syracuse Orange twice in February.
Duke must also face #12 North Carolina in two huge rival games on February 18 in Durham and March 7 in Chapel Hill. Keep an eye on Duke's remaining ACC games, especially as the ACC has arguably been the most exciting and up-for-grabs conference this season.
Duke is #4 in the AP rankings, but is still behind Virginia, Notre Dame and North Carolina in the ACC standings.
Duke has been especially fun to watch this season, thanks to standout freshmen Tyus Jones and Jahlil Okafor. Jones has grown into a true leader and has such refined court vision, it's hard to believe he's only a freshman.
His vision and selflessness have helped him develop into a quarterback-like point guard, lead the Blue Devils' offense and spread the ball with an average of five assists per game. His knack of making huge plays in huge moments in huge games (like against Virginia or Wisconsin), has earned him the respect and trust of his elders.
Jahlil Okafor has been Duke's star all season, and it's hard to argue against Okafor's status as the best freshman in college basketball. It's equally as hard to argue against Okafor's status as one of the best players in college basketball, in general.
Just watch him; "Jah" has carried the weight of Duke's offense, leading the ACC with an average of 18.2 points per game and 9.3 rebounds per game.
Beyond his ability to score and rebound, Okafor has impressive court awareness, allowing him to draw the attention of defenders and then effortlessly feed the ball to the open man.
Okafor will no doubt be a top pick in this year's NBA draft. Attention all mediocre NBA teams: Start tanking for him now.
Gonzaga Bulldogs
We should all keep one eye on the #2 'Zags for two reasons: They're good, and, we're not quite sure how good they are.
The Bulldogs have easily owned the West Coast Conference and established a record of 24-1 in the process.
The wins have been both frequent and assertive, with only three of Gonzaga's 24 wins coming by margins of 10 points or fewer. Gonzaga has used this season to refine its stellar offense.
The 'Zag's offense ranks #8 in the country for points scored per game, with an average 80.7, thanks to the consistent shooting of Kentucky-transfer forward Kyle Wiltjer, USC-transfer guard Byron Wesley, center Przemek Karnowski and guard Kevin Pangos.
Gonzaga also averages the highest field goal percentage per game, at .532 percent. Three-pointers and assists strengthen the Bulldogs' attack even more, as they're averaging 7.2 threes per game and 16.9 assists per game.
However, Gonzaga will be a team to watch heading into March as they have faced much less competition than teams in powerhouse conferences like the ACC, the Big 12 or the Big Ten.
Gonzaga has faced only two ranked opponents this season, with a win over then-#22 Southern Methodist University back in November, and an overtime loss at then-#3 Arizona in December.
Even with a weaker schedule, the Bulldogs have still experienced scares, with a shaky two-point win at Pepperdine in January and a narrow seven-point victory at BYU in December.
Every team has its down games and Gonzaga is no exception, but if the Bulldogs keep their offensive streak going, they should still be able to match up well head-to-head against other top-10 teams.
Gonzaga will likely earn a #1 seed in the tournament, but it will be interesting to see how far the Bulldogs can go.
Kentucky Wildcats
The Kentucky Wildcats have dominated this season, earning themselves a 23-0 record that includes an overtime win versus Ole Miss, a double overtime win at Texas A&M and four wins versus ranked opponents Kansas, Texas, North Carolina and Louisville.
While Kentucky faces only non-ranked opponents for the remainder of the regular season, there are still plenty of opportunities for the reigning number ones to fall.
Kentucky's regular season finale is against Florida, who had a nine-point lead over the Wildcats in their matchup on February 7, and ultimately lost by only seven. The win at Florida was Kentucky's fifth game decided by 10 points of fewer.
Even if the Wildcats close the regular season with more blowout performances, Kentucky's star-studded roster is still worth the watch.
Twins Aaron and Andrew Harrison are the dynamic duo of college basketball, leading the team in points per game and assists per game, respectively.
Seven-foot junior Willie Cauley-Stein has been one of the most dominant players all season, shooting 58 percent from the field, leading the team with an average of 6.3 rebounds per game and throwing down freakishly-impressive dunks like this one all season.
Add in the leadership of Alex Poythress and the strong play of freshmen Devin Booker, Karl-Anthony Towns, Trey Lyles and Tyler Ulis, and Kentucky has a team capable of winning the title come March.
Maryland Terrapins
Maryland's first season in the Big Ten has been a fun one for the Terps, as no one expected them to be the second team in the Big Ten come February.
A former-ACC team, Maryland is used to tough competition, and has shown they are capable of taking down big name teams, like Iowa State and Michigan State.
Despite recent tough losses at Iowa and and Ohio State, Maryland has the chance to roll into March with valuable wins against Indiana and Michigan. The Terps are also scheduled to take on #5 Wisconsin on February 24.
Even if Maryland cannot pull off the statement upset, a tight scoreline would indicate the team's readiness for the tournament.
Like their Big Ten rival Ohio State, the Terps are surging around a spark provided by scary-impressive freshman Melo Trimble. Trimble is a sharp shooter who loves to run the offense, penetrate defense and attack the rim.
While Duke's Okafor is the best freshman in basketball, Trimble is in the standout pack right behind him. He may even be a legitimate contender for "second best."
Despite his recent scoring slump, Trimble is still a valuable asset, as he's learned how to be a pass-first point guard.
Even when his shot's off, Trimble remains the core to this Maryland team. He leads the Terps in points per game, assists per game and steals per game. Dez Wells and Jake Layman have also been huge for the Terps, providing additional size and strength on defense and weapons on offense.
Keep your eyes on Trimble for the remainder of the season, but also watch for his potentially monstrous return to Maryland next season.
North Carolina Tar Heels
After an uncertain start to the season, the Tar Heels are attempting to peak at exactly the right moment heading into March.
This up-tempo team loves to run the floor and play off of fast breaks, making the Tar Heels an exciting them to watch whenever they are controlling the pace.
North Carolina has already earned four top-25 wins, and has the opportunity to earn two more against rival Duke.
Also watch for potential shifts in Carolina's lineup the final month of the regular season, as key players Marcus Paige, Theo Pinson and Joel Berry work to overcome injuries.
While UNC is ranked #12 nationally, their 8–3 ACC record currently gives them the third seed in the conference and ranks them above both Duke and Louisville.
Even though Paige's production has been somewhat hindered by injuries, the Tar Heels have learned to spread the ball and the workload more to create additional offensive production and efficiency.
The depth of the Tar Heel bench has helped the team average 78.8 points per game, even without UNC's top shooter Paige at full strength. Carolina's biggest advantage has been its play on the glass, as the Tar Heels are number two in the country for rebounds per game.
If UNC can maintain the offensive production of forwards Kennedy Meeks and Brice Johnson, continue to dominate other teams on the glass and let Paige take over in clutch moments, Carolina could peak at just the right time.
Northern Iowa Panthers
Every time I hear someone mention "UNI," my automatic reply is, "Who?" But, #13 Northern Iowa is no joke. The Panthers have stormed onto the college basketball scene and are now sitting pretty with a 22-2 record and the #1 seed in the Missouri Valley Conference.
Like Gonzaga, Northern Iowa's weaker conference schedule makes it harder to predict how they will match up with other top teams come tournament time.
But, it's worth remembering the Panthers easily routed Missouri Valley rivals, and former #12, Wichita State by 16 points at the end of January.
Northern Iowa's regular season finale is also against Wichita State, and provides a huge opportunity for the Panthers to grind out another statement win and head into the tournament with plenty of momentum.
The key to Northern Iowa's game is offensive efficiency. The Panthers make smart offensive decisions and rarely waste possessions.
There is nothing particularly flashy about their game, but UNI successfully runs plenty of offensive sets, moves the ball to find smart looks and takes advantage of almost every scoring opportunity they get.
The Panthers are led by standout forward Seth Tuttle, who leads the team in points per game, rebounds per game and assists per game. Tuttle has been huge for the Panthers, getting the job done in key moments like when he dropped 29 points against Wichita State.
If Tuttle can stay hot, Northern Iowa can be the dark horse of this year's tournament.
Notre Dame Fighting Irish
Notre Dame has had a particularly strong season thus far, thanks to superstar senior guard Jerian Grant.
Grant has been huge for Notre Dame, showing off his sharp shooting on offense and his stellar coverage on defense. Grant leads the Irish with 16.8 points per game, 6.3 assists per game and 1.7 steals per game.
Grant is also noticeably impressive thanks to his reliability down the stretch and his smart decision-making skills. His clutch plays against Duke were huge for the Irish, and helped solidify Grant as a smart leader, a reliable weapon and the perfect man to carry Notre Dame into the post-season.
Even beyond Grant, Notre Dame is an extremely talented offensive team. The Irish average 80 points per game and hit about 40 percent of attempted threes, so points come fast and often.
Because the Irish shoot so well and are particularly skilled at the three-ball, Notre Dame has the ability to rapidly erase deficits when they're down and forcefully put away opponents when they're extending a lead.
Almost every Fighting Irish game is a scoring fest, so if you enjoy tons of points and fast-paced offense, this is the team for you.
Ohio State Buckeyes
The Buckeyes are fun to watch because freshman guard D'Angelo Russell is extremely fun to watch.
For a freshman, Russell is already incredibly refined. He can shoot lights-out and is practically unstoppable when his shots are on. He easily leads the team in points per game, averaging 19.5. He can nail the three and pull in rebounds against some of his even larger opponets.
Russell's biggest strength is his ability to pass. With an average of 5.4 assists per game, Russell feeds the ball often and is skilled enough to do it in insane ways, like this.
Russell has the kind of court vision you would expect to see from an upperclassman, not a freshman, which makes every Ohio State game entertaining.
Even though Ohio State has dropped to 23 in the AP rankings, they remain one of the top statistical teams in the country. The Buckeyes are 16th in points per game, 13th in assists per game, and third in field goal percentage.
However, it's hard to deny Ohio State's need for D'Angelo Russell. The rest of the Buckeye team is more than capable of shooting and spreading the ball, but Russell provides an invaluable spark and an extra dimension to their game.
If the Buckeyes want to surprise some teams in March, they will need Russell to stay hot and consistent. Don't be surprised to see the freshman do exactly that.
Virginia Cavaliers
Virginia is officially the king of defense. Much like Northern Iowa, there is not much fancy about Virginia's game.
On offense, the Cavaliers consistently convert and spread the ball, creating scoring opportunities for a number of players, instead of relying solely on one or two stars. But, defense is where the Cavs shine and can break down other teams.
Opposing offenses struggle to get any good looks against UVA's pack-line defense, which has successfully smothered even top teams, like Maryland, Notre Dame, North Carolina and Louisville.
UVA's convincing road wins at Maryland, Notre Dame and North Carolina are extremely promising for the Cavaliers' tournament hopes.
These are some of the top offensive teams in the nation, and the Cavaliers still convincingly managed to control the tempo, provide heavy ball pressure, force contested jump shots and clean up the defensive glass.
Don't expect high-scoring games from UVA, but do expect games capable of making basketball purists' hearts skip a beat. Virginia's fundamentals and defensive play may be able to take the Cavs all the way to the end of the bracket.
Wisconsin Badgers
Wisconsin has a huge weapon in center Frank Kaminsky, who may just be the best player in college basketball.
Kaminsky can provide the Badgers with just about anything they need, from physical paint play, to offensive and defensive rebounding, to spreading the court with his vision and ball movement skills. He faces up; he scores in the post, and he is a defensive force.
The 7-foot senior can even hit the three, knocking down 41 percent of his attempts. Kaminsky lights up the stat sheet, but the Badgers also have a very solid supporting cast in forwards Sam Dekker and Nigel Hayes, and guards Traevon Jackson and Josh Gasser.
Even with standout Kaminsky, Wisconsin's offense remains well-rounded and extremely efficient, earning the Badgers the 18th best field goal percentage in all of DI basketball.
Wisconsin still has two of its toughest games ahead, playing at Maryland on February 24 and at Ohio State on March 8.
These will be two challenging road tests for Kaminsky and the Badgers, but Wisconsin is more than capable of finishing out the regular season with nothing but wins.
Wisconsin may have been somewhat of a surprising final four team last season, but don't be surprised if you see Kaminsky and the Badgers there for the second year in a row.