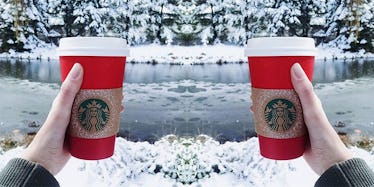 You Can Actually Win Starbucks For Life, And We Couldn't Be More Excited
When you love Starbucks as much as any red-blooded, capitalist American (which is a freaking lot, TYVM), you need to know the coffee company loves you back.
K, WELL, IT DOES. YOU'RE WELCOME, LATTE SLUTS.
Last year, Starbucks was like,
S'up, basics? Guess what? You can win one food or bev item every day for the next 30 goddamn years if you buy a delicious lil' something from us every day in December. Don't sleep on this, idiots.
The Bux made good on its promise, and 10 lucky-ass SOBs won.
If you were not among them and your life is in total tragic garbage shambles because of it, then get your sh*t together because another chance is coming down the dirty old chimney.
Beginning today, December 8, every time you use your My Starbucks Rewards card or app to buy a drink or snack that's tasty AF, you enter to win prizes including Starbs for life, Starbs for a year, Starbs for a month and Starbs for a week.
I litch-rally just logged on and got a bonus star for doing practically nothing, so, yeah, I'm feeling like one elitist piece of hot, steamy crap.
DO IT, OR DON'T. I DON'T CARE.
If you happen to be a sane person who likes presents, though, and you're a slave to the damn Bux, enter by logging in to StarbucksForLife.com and thank me later.
Citations: Here's Exactly How You Can Win Starbucks for Life (Cosmopolitan)