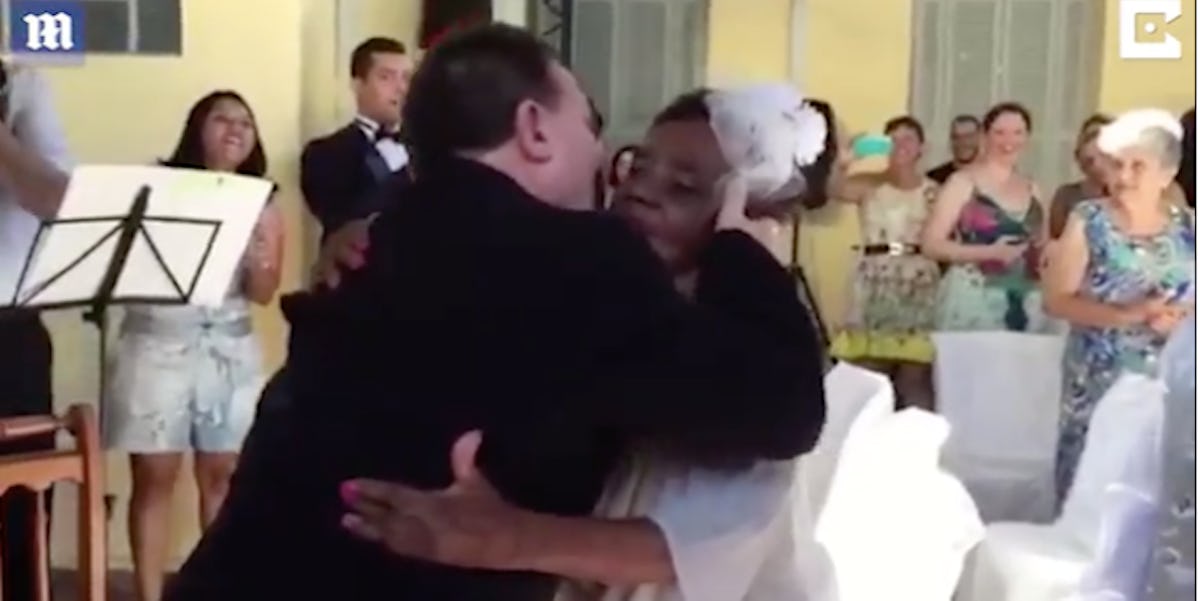 World's Oldest Fiancée Gets Engaged At 106, Proving It's Never Too Late For Love
Daily Mail
"Oh my god, I'm almost 35 and I'm NOT EVEN ENGAGED YET!" My friend Samantha screamed in fury the other day.
"Chill out, girl!" I screamed back. The girl does need to chill.
After all, the world's oldest fiancée just got engaged at 106 years young for the first time in her life, and she looks way cuter than any of my 30-something friends do in their (basic) engagement pics.
According to DailyMail.com, Valdermira Rodrigues de Oliviera, a Brazilan pensioner, got engaged to her 66-year-old lover, Aparecido Dias Jacob, at a traditional engagement ceremony after being together for three years.
The couple (known as Jaco and Valda by their friends and loved ones) met at Nossa Senhora Fatima retirement home in Brazil, teaching all of us stressed out millennials that it's never too late to find love. Neither of them have been married before this engagement.
They're apparently inseparable, eat every meal together and talk all day long. That's some real relationship goals, honey.
The cute babes call each other their soulmates and exchanged engagement rings in a ceremony organized by volunteers from an organization called "The Project of Dreams."
"Project Dream" volunteers came to the retirement home and asked 40 residents what they want to do "most in their life to make them happy."
Both Valda and Jaco said they wanted to marry each other and have their own little home to live in together.
Valda is so in love with her man, she says, "If he dies, I die too," and "'I know it's not going to happen, but I would have loved to be able to wash Jaco's clothes, cook his meals and look after him like a wife."
Due to their combined health issues and age, doctors didn't think it's a good idea for them to live without care, so the organizers decided to make an amazing engagement party to fulfill their love dreams since they can't get married. I love that they decided to say "screw it" to the doctors and get engaged anyway.
The ceremony had 150 guests, all of whom are residents at the retirement home.
Jaco, who has lived in the retirement home for 19 years after spending a time of his life being homeless and unemployed, says of his 106-year-old fiancée,
I fell in love with Valda from the moment I saw her. I know she's a little older than me, but that doesn't matter because she makes me really happy. I asked her to marry me, and we always believed it would happen, but getting engaged is a step forward for us right now.
The couple couldn't help but passionately kiss at the altar after saying committing to stay loyal to each other and exchanging rings.
Now, I find most engagement stories to be total bullshit, but this one even made ME feel hopeful and teary.