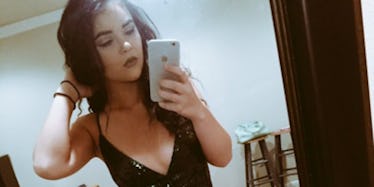 Woman's Gorgeous Mirror Selfie Goes Viral For Frustrating Detail In Background
Twitter
Gurl, naw. Please clean your room.
Look, I'm definitely not one to get all judgy when my bedroom looks like a laundromat exploded. But this? THIS is next level.
ARE YOU SEEING THIS!? It actually looks like a first-world crack den.
Alyssa Bordelon posted the pic on Twitter because she wanted to show off her LBD. She wrote,
Going to dinner because I needed an excuse to wear this.
Yeah, the dress is cute. But that's not why this photo became the viral sensation of 2017. New year, same old messy Alyssa. There's crap covering literally every single part of her floor besides the tiny, clean patch she's posing on.
The internet simply didn't know where to begin when dissecting the image.
Obviously, there was straight up shock.
People needed a moment or two to process.
And there was a moment of silence for the future Mr. Alyssa.
Then people could get to work pointing out all the terrible things she has going on in her room -- like this bag of marshmallows next to a pair of sweaty sneakers.
And this huge bag of what looks like shiny coins.
Wait, is that a legit waffle maker?! Who has a waffle maker just hanging out by their bed?!
But there was one small detail lurking in the background that captured everyone's attention. Brace yourself, this is beyond gross:
Yep. It looks like a rat. I can't tell if this has been Photoshopped in or if it's just something that looks a bit ratty. But it's pretty funny to assume she's so dirty, an actual rat is loving her lifestyle.
Some people attempted to save us from the mess. We thank them.
Thank you.
Alyssa is just one of those people who wants to watch the world burn.
Citations: Mirror selfie backfires spectacularly as woman gets dragged for her messy room (Mashable)