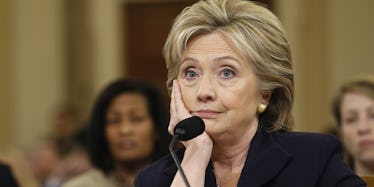 Woman Tweets Poem About Mansplaining, Instantly Gets Lectured By A Ton Of Men
REUTERS
It's a tale as old as time. Man says something wrong. Woman tells him it's wrong. Man says she's wrong for telling him he's wrong.
And so the world turns.
Felicity Morse, an editor, tweeted a poem called "Differences of Opinion" written by Wendy Cope for National Poetry Day.
Morse said the poem "nails mansplaining" -- you know, when a man explains something to a woman with extreme confidence even if he's wrong and even if the woman is an expert in what she's talking about.
The poem is about a man saying something unequivocally incorrect. A woman tries to correct him, but, of course, he won't have that. The poem reads,
He calls her arguments unsound / And often asks her not to yell.
The story of Cope's poem sounds just a little bit familiar.
The tweet picked up a ton of retweets -- and naturally, with retweets come mansplaining trolls.
But Morse is a clever woman, and she had some fun playing with the men who showed up in her mentions.
Rather than explain mansplaining herself (womansplaining?), she just went ahead and let them demonstrate it. In doing this, she made them prove the point that rampant mansplaining exists all by themselves.
Mansplaining actually is a scientifically studied behavior that exists. Scholarly literature shows men interrupt more -- and more intrusively -- than women, and they are also more likely to react poorly when interrupted themselves.
Probably my favorite moment in all of this madness was when one man said the poem was "sexism at it's [sic] finest!"
Morse asked him to explain -- clearly baiting him to mansplain -- and he decided this deserved a six-part series of responses to mansplain why mansplaining apparently doesn't exist.
Of course, by going on and on making a counterfactual argument that men don't assert their opinions over women, the man proved the woman right that men like to go on and on making counterfactual arguments to assert their opinions over women.
Shocking.
Citations: Psychology Today