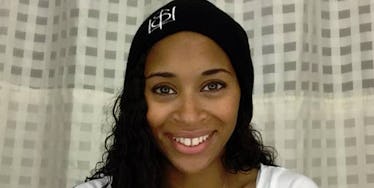 Woman Surprises Her Girlfriend She Met On Tinder With Kidney Donation (Video)
Alana Duran had no idea when she swiped right on her current girlfriend, she would also be swiping right on her chances of survival.
Since 2011, Alana has been awaiting a kidney transplant due to her struggles with lupus.
Her whole family was tested, but, unfortunately, none of them was a match to donate.
That all changed, though, when her girlfriend, Lori, whom, she met on Tinder of all places, gave her one of the biggest and best gifts you can give anyone in the entire world: Red Vines.
Also, a new kidney or whatever.
Lori filmed the gift exchange, and the video is pretty much the most uplifting clip of all time.
As most of you know I was diagnosed with Lupus at the age of 12. Lupus is an autoimmune disease where my body's immune... Posted by Alana Duran on Friday, November 20, 2015
At the bottom of the box full of assorted goodies, Lori included a card that read, "Tattoos are cool but I'd rather get matching scars," along with a poster saying she was a perfect match, both medically and as a person, for Alana.
Alana uploaded the video -- which currently has over 100,000 views -- to Facebook and captioned it with a brief explanation of her situation. She finished by saying,
Who knew that when we both swiped right on Tinder that day, that we would be more than just girlfriends but that she would be my kidney donor! It's so funny how things work out. Both of us going into this relationship not expecting anything out of the ordinary. It's just so amazing to me that she was willing to get tested and now she's super excited to donate one of her kidneys to me. Lori, I love you so much and I'm so excited that we get to do this together. You're the absolute best.
Good luck topping that gift this Valentine's Day, everyone.
Citations: This incredible woman gave her girlfriend who she met on Tinder a gift that no one else could (Metro)