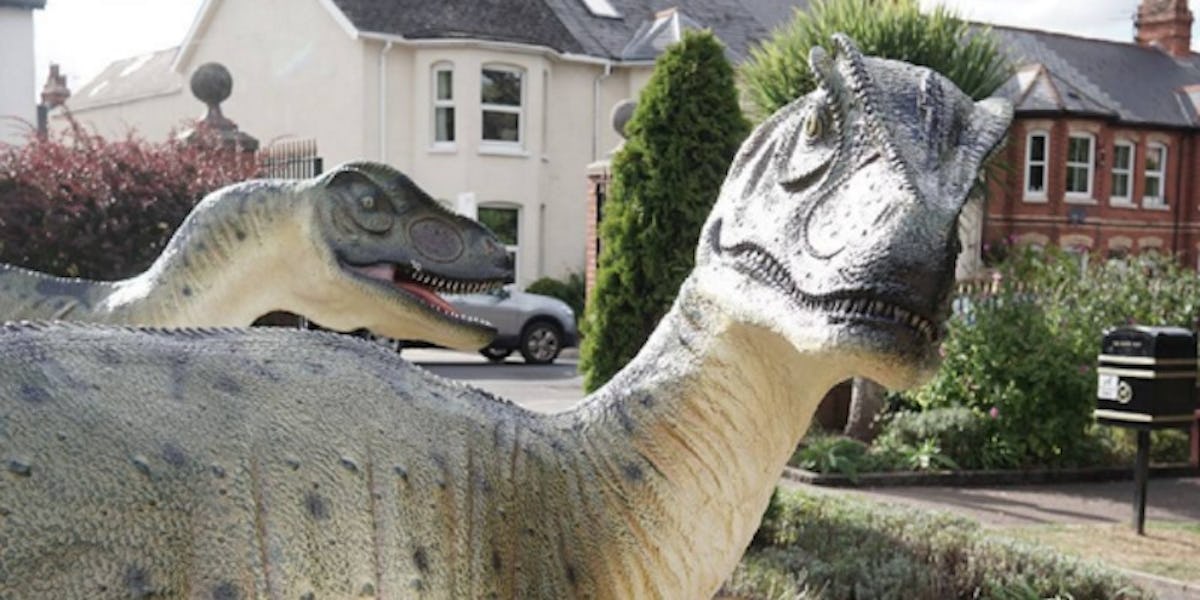 Pic Of Half-Naked Woman In 'Sex Act' With Playground Dinosaur Goes Viral
Instagram
A woman with an unquenchable lust for the Jurassic Period has been pictured performing a sex act on a baby dino.
NB: I want to reassure you not all of England is like this -- just the parts with model dinosaurs.
The gross image, taken on the Exmouth Dino Trail in Devon, shows a half-naked woman hovering over a plastic model giving the illusion of Mesozoic cunnilingus.
It's shocked many, including John Thorogood, organizer of the Exmouth Dino Trail. He said,
I saw the image on social media and was completely disgusted by it. It was clearly a deliberately posed photograph of a very immature adult engaged in a sex act.
In fact, the photo has upset so many people, the police are now involved.
An investigation has been launched and officers are trying to identify the woman.
Sergeant Richard Stonecliffe said officers have been "made aware of two pictures that were posted on social media this week which appear to show a woman exposing herself whilst undertaking a distasteful act in public, and exposing herself in a local public house."
The sergeant warned others not to post offensive photos online because you never know if they will go viral. He said,
We recommend that members of the public think very carefully before posting any images on to social media. All sections of society, and people of all ages have access to websites and forums. This means images possibly taken in jest and that you would not share in the cold light of day, may go viral and be seen by children, you family, neighbors or colleagues. Even if the offending images are quickly removed, they will often have been captured or saved by someone and then they could easily be reposted.
He added,
What may be deemed amusing to one person can be deemed offensive and upsetting to others; this could see you in trouble with the police.
*Deletes dinosaur dick pic taken in jest at Exmouth Dino Trail two months ago*