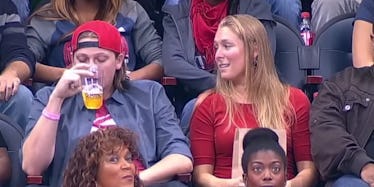 Woman Had Best Reaction After Her BF Didn't Want To Make Out On The Kiss Cam
YouTube
Have you ever made the kiss cam at a sporting event?
These sweet moments are often unexpected, but if you and your significant other are quick enough, you can make the most of your five precious seconds.
That is of course reliant upon whether or not your partner wants to kiss you back. Imagine this: You're at an NBA game with your girlfriend or boyfriend and suddenly realize you're next up for a smooch on the kiss cam.
Everyone else has waited their turn and put their romance on display for the world to see. Now, it's your turn. As you turn to kiss your partner on the lips, you realize they don't want to kiss you.
By now, a number of different options are floating around in your head. You can either play it off and just let the awkward moment pass or you can make things even more awkward by kissing a complete stranger instead.
That's exactly what happened at a Hawks game during the "Beauty and the Beast" sponsored kiss cam. There's always something wacky going on at Hawks games.
A new video uploaded to YouTube by the Atlanta Hawks is captioned,
A man turned down a kiss from his girlfriend when the Kiss Cam was on them Wednesday night, so she decided to kiss someone else instead.
The man who turned down the kiss then gets up out of his seat and apparently storms out of the arena, according to witnesses who were at the game.
Here's the unexpected moment a guy turned down a kiss from his girlfriend on the kiss cam causing her to kiss a stranger instead.
Damn, that might be the biggest "L" taken in the past three months of 2017. Something tells me those two are no longer using emojis for each other's names in their contacts.
Of course, there are plenty of YouTubers in the comments claiming the unthinkable kiss cam moment was fake.
However, one commenter fired back, saying,
I was there. It wasn't fake. My favorite part of the game! He walked out of the building!
Was it real or fake? You be the judge.
Citations: This Woman Had the Best Reaction When Her Beau Refused a Smooch on an NBA Kiss Cam (People)