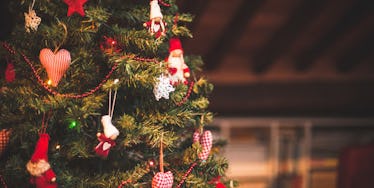 Mom Criticized For Posting Pic Of Christmas Tree With 300 Gifts Under It
Shutterstock
HOW IN GOD'S NAME DO I GET EMMA TAPPING TO ADOPT ME?
The 35-year-old mother of three believes in surpassing her children's wildest dreams on Christmas morning by providing them 300 presents to the tune of £1,500, or over $2,000.
Last week, Tapping shared a photo of her kids' massive present pile on Instagram, expecting only family and friends to see it.
The photo was snagged and turned into a meme shaming "materialistic parents," and commentators brutally shamed the gift supplier.
The meme's caption read,
Nearly time for all the materialistic parents to compete and broadcast how many presents their kids have on Facebook!! Just remember theres some children who dont get much.
In an interview on British show "This Morning," Tapping, who runs a holiday cottage, claimed she spends all year seeking out deals to afford her children a magical Christmas and doesn't see the harm in it.
She reportedly said,
I start shopping in January and use every bargain, every sale I can, that's how I do it, I shop all year round to make the pile as big as it is… It has cost around £1,500, I don't have a credit card, I follow Martin Lewis the money expert religiously and I do all the sales. I never pay for anything full price so [I] can give [my] kids the best Christmas they can have.
Fellow mother Jen Gale (whom, for the record, I would not like to be adopted by, thanks) appeared on the show, arguing there's no need to spend on Christmas presents or even a Christmas tree.
Gale's two sons go without store-bought presents every year in order to value family time and enjoy a Christmas tree made of green pom-poms.
Tapping, however, doesn't believe showering her children with gifts during the holidays is detrimentally affecting them.
She added,
You can buy your children two presents or 200 but it is the way you bring them up. They could have two presents and still be a little terror. My kids know the difference between right and wrong, they appreciate everything they get and they don't get spoilt throughout the year, we don't go on expensive holidays. If they break something like their phone they have to save up their money to replace it.
Amid press coverage and commentator backlash, Tapping posted a follow-up on Facebook to kill false rumors.
I know this page is going to get busier and I know I am in the papers today so I thought I would set people straight on... Posted by Thebossmum on Wednesday, December 9, 2015
She concluded,
Please try and remember this is about 3 little children, their christmas, their tree.
With so many gifts, the Tapping children could each easily donate one or two to a toy drive for less fortunate kids without even seeing a dent in the stack, which is something everyone can get behind.
It's not about fewer presents; it's about how you use the presents.
In this case, the more (presents) the merrier (Christmas).
Citations: Mother-of-three who spent £1,500 on 300 Christmas presents for her children insists they're NOT spoilt after she's accused of being 'delusional' and 'pressie-bragging' (Daily Mail)