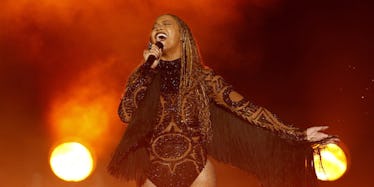 This Woman Hilariously Missed A Beyoncé Concert By Going On The Wrong Day
REUTERS
Note to self when going to concerts: Check the date, especially if it's Beyoncé, because you might not get another chance to see the queen in person.
Unfortunately, according to BuzzFeed News, a 34-year-old woman named Tammy forgot this crucial little detail when she tried to see a Beyoncé show in London with her son and husband.
Queen Bey was playing shows on Saturday and Sunday in London's Wembley Stadium for The Formation World Tour.
According to BuzzFeed, Tammy, a South African photographer, has been living in the United Kingdom for about seven years and bought the tickets for $65 a piece.
It was only on her way to the stadium that Tammy opened up her Ticketmaster app to check her tickets and discovered an awful truth: She had bought tickets for Saturday's show, which had already come and gone.
She told BuzzFeed,
It said only past events and I saw it said Saturday and realized the show was over and we couldn't go anymore. I kept on thinking that it might be a mistake and maybe I'm looking at the wrong thing.
But, Tammy wasn't wrong; she came on the wrong day.
She tried to resolve the situation with Ticketmaster to no avail, and it seems an attempt to buy other tickets fell through.
@Beyonce @TicketmasterUK any tickets left whatsoever? — Tammy (@Tammyrazzi) July 3, 2016
@Nay_WasHERE @TicketmasterUK @Beyonce @wembleystadium already did... They said there's nothing they can do. — Tammy (@Tammyrazzi) July 3, 2016
But, Tammy's distress didn't stop Twitter from making all kinds of jokes about getting in formation and resolving the problem by fixing her phone.
You were told to get in formation https://t.co/28LTM9xs6Z — Jesus Shuttlesworth (@VisPorter) July 3, 2016
But eventually, Tammy saw the humorous side and seemingly moved past her error with her love for Beyoncé intact.
Sounds like that husband's a keeper. Anyway, Tammy and concertgoers everywhere, make sure you check the date on your tickets next time or else you just might miss Beyoncé!
In case you also missed Beyoncé, here are the rest of her upcoming shows for The Formation World Tour:
July 5, 2016: Manchester, England at Emirates Old Trafford aka Old Trafford Cricket Ground July 7, 2016: Glasgow, Scotland at Hampden Park July 9, 2016: Dublin, Ireland at Croke Park July 12, 2016: Düsseldorf, Germany at Esprit Arena July 14, 2016: Zurich, Switzerland at Letzigrund July 16, 2016: Amsterdam, Netherlands at Amsterdam Arena July 18, 2016: Milan, Italy at San Siro Stadium July 21, 2016: Paris, France at Stade de France July 24, 2016: Copenhagen, Denmark at Parken Stadium July 26, 2016: Stockholm, Sweden at Friends Arena July 29, 2016: Frankfurt, Germany at Commerzbank-Arena July 31, 2016: Brussels, Belgium at King Baudouin Stadium August 3, 2016: Barcelona, Spain at Estadi Olímpic Lluís Companys September 7, 2016: East Rutherford, New Jersey at MetLife Stadium September 10, 2016: St. Louis, Missouri at The Dome at America's Center September 14, 2016: Los Angeles, California Dodger Stadium September 17, 2016: Santa Clara, California at Levi's Stadium September 22, 2016: Houston, Texas at NRG Stadium September 24, 2016: New Orleans, Louisiana at Mercedes-Benz Superdome September 26, 2016: Atlanta, Georgia at Georgia Dome September 29, 2016: Philadelphia, Pennsylvania at Lincoln Financial Field October 2, 2016: Nashville, Tennessee at Nissan Stadium
Citations: A Woman On Her Way To See Beyoncé Realized Her Tickets Were For The Night Before (BuzzFeed News)