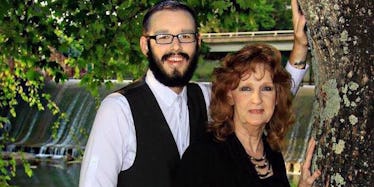 71-Year-Old Woman Marries Teen Weeks After Meeting Him At Her Son's Funeral
Facebook
You guys, I am so sad. Like, so, so sad.
To you, this might just be another weird, funny article. But to me, it's the first time I'm writing a piece about sexy, kooky old people (my favorite topic of all time) that actually sort of just creeps me out.
All right, now that I've both aired my grievances and mentally prepared you, here we go.
Almeda Errell, 71, has not had an easy time these past few years. The mother of four has been completely heartbroken after first being widowed and then losing her son, Robert, after he had a seizure.
Errell, a supermarket assistant, said this about her immense loneliness and heartache:
I found myself on my own. I'd turn up for work at Walmart in tears and my colleagues would ask me what was wrong. Deep down, I was searching for a soulmate.
What happens next is where things start taking a turn for the freaky.
While attending her son's funeral, Errell found exactly what she was apparently looking for all along. It was love at first sight when she spotted 17-year-old Gary Hardwick at the funeral. Yes, you read that correctly. It was AT HER SON'S FUNERAL.
Three weeks later, they were married. But, Gary really isn't Errell's usual type.
She insisted,
I wasn't looking for a young man, but Gary just came along. I just knew straight away that he was the one.
It was love at first sight, you guys.
On the other hand, Gary is pretty big on the granny scene. The 17-year-old (going to go ahead and reiterate his age as much as I can here) just got out of a relationship with his 77-year-0ld ex. Apparently, he felt "trapped."
Here's a picture of the happy couple leaning against what I am going to assume is a very fake backdrop:
To each his own, I guess.
Citations: Woman, 71, married teen just three weeks after meeting him at son's funeral (Metro)