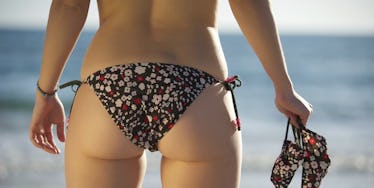 This Woman Lost Half Her Body Weight And Won A Bikini Competition
Getty Images
While I'm typically not a huge fan of parading women around in their bikinis for sport, one Nebraskan woman should wear a bikini everywhere she goes.
Conner Rensch, 26, was morbidly obese at 271 pounds before transforming her body and life to become a body positive fitness model. Now, 130 pounds lighter, she struts her fabulous figure -- stretch marks and all -- as a physical reminder that you can achieve whatever you set your mind to.
Rensch, who was bullied for her weight as a kid (seriously, who are these demon children?!), shared her journey on Instagram with nearly 40,000 followers.
Take that, haters! https://instagram.com/p/4S9Xesmc7O/embed/
At the 2015 World Beauty Fitness And Fashion contest, Rensch wore a bikini for the very first time and crushed the competition.
https://instagram.com/p/4QfVV2mc00/embed/
Rensch says she always had a big sweet tooth and relied on food as a comfort.
As the bullies kept harassing her, the weight piled on. She says,
When I was in 6th grade, a girl on instant messenger told me I should just kill myself.
By the time she got to college, she decided to turn her life around, ditching processed foods and picking up kickboxing. But the biggest change was an emotional one. According to Rensch,
The biggest change was emotionally - I was my biggest bully. Now I've learned to be kind to myself.
Get it, girl.
Citations: Obese woman who is 'proud' of her stretchmarks becomes an online star after losing HALF her body weight and winning a bikini competition (Daily Mail)