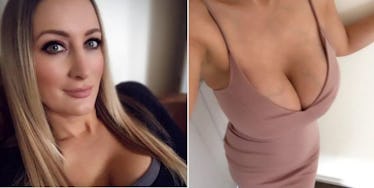 Woman Pissed After Men Send Her Naked Selfies In Reply To Dress Listings On eBay
amazingle eBay
A mother selling dresses on eBay is horrified after being bombarded with creepy messages and naked selfies from men who found her on the site.
Katherine MacPherson, 42, runs a small business on the auction site and takes pictures of herself wearing the clothing items she's trying to sell.
However, she claims she has recently been receiving up to 20 crude messages per day from other eBay users, and she feels the site is not responding appropriately to the issue.
MacPherson, a mother-of-two from Wiltshire, alleged one man even sent her a picture of his penis, despite the fact that she had already blocked him after he sent several disturbing messages to her, all of which she ignored.
She told The Sun,
I reported him and was informed by eBay that if they received any more complaints from other users they may consider suspending his account.
She now feels as though she's being targeted directly by men on the site, and she claims she was told her eBay listings have been posted to Facebook pages.
According to MacPherson, eBay apparently makes it very difficult for users to report this type of harassment.
She said,
There is sexual harassment that is being ignored and virtually condoned. eBay needs to do more to ensure that their users are protected from this kind of bombardment. The eBay community's answer to this is that because I use myself as my model that "I'm asking for it" and "what do you expect."
MacPherson believes her dresses are better marketed when she photographs herself actually wearing the clothing.
She said,
I'm not ashamed of my body. I don't cover up but people should control themselves.
eBay claims they are currently investigating the inappropriate messages she's received.
A spokeswoman from the company said,
This is something we call member to member communication. eBay takes this very seriously and if there are any allegations of harassment that is something we will look into and take action on. We will look into this specific case and investigate it.
Citations: Woman receives creepy messages and naked selfies after listing dress on eBay (Metro.co.uk), BIDS OUT FOR THE LADS Glamorous mum who models dresses to sell on eBay gets swamped with messages and filthy pictures from perverts (The Sun)