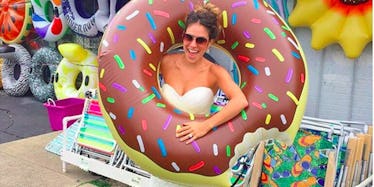 Woman Comes Up With Genius Way To Reuse Her Wedding Dress Every Year
Instagram
It's the dress every girl fantasizes about. But you only get to wear it once.
Or maybe not. One woman brings out her wedding dress on the anniversary of her wedding every year. This is the most fabulous instance of recycling we've ever seen.
Most girls spend their lives dreaming about both their perfect wedding and their perfect dress. Much like how Charlotte says in "Sex and the City," the wedding dress is basically as important as the groom. But unlike is the case with the groom, it's not acceptable to be seen in public in your wedding dress after the big day.
Marriage counselor and dating coach Samantha Burns was so in love with her wedding dress, she came up with the idea to re-wear it each year on the day of her wedding.
As my husband and I wrapped up our wedding celebration, I did not want to take off my dress. I had looked forward to the day for so long, and couldn't believe in a matter of hours, it was over. It was in that moment that I turned to my husband and told him that I intended to wear my wedding dress for every anniversary as long as I could fit in it!
On their first anniversary, Samantha took her dress (and husband) on a week-long getaway. It seems she was determined to perform all the vacation activities while sporting her gown.
If you've ever wondered what it looks like to play golf in a wedding dress, look no further:
And Samantha isn't worried about a little wear and tear.
It's collected some stains on the bottom, but I much prefer this than keeping it in a pristine box that will never see the light of day, or my husband's adoring eyes. I smile when I walk past it, the light catching the sparkles, as if it's winking at me, saying, 'I'll see you next year!'
The relationship expert has five reasons why every bride should re-wear her wedding dress:
To get your money's worth
Fitness motivation to keep fitting into it
To rekindle romance
To create new memories
To feel like a celebrity for the evening
I can't help but wonder what the self-confessed love expert's husband makes of all of this...