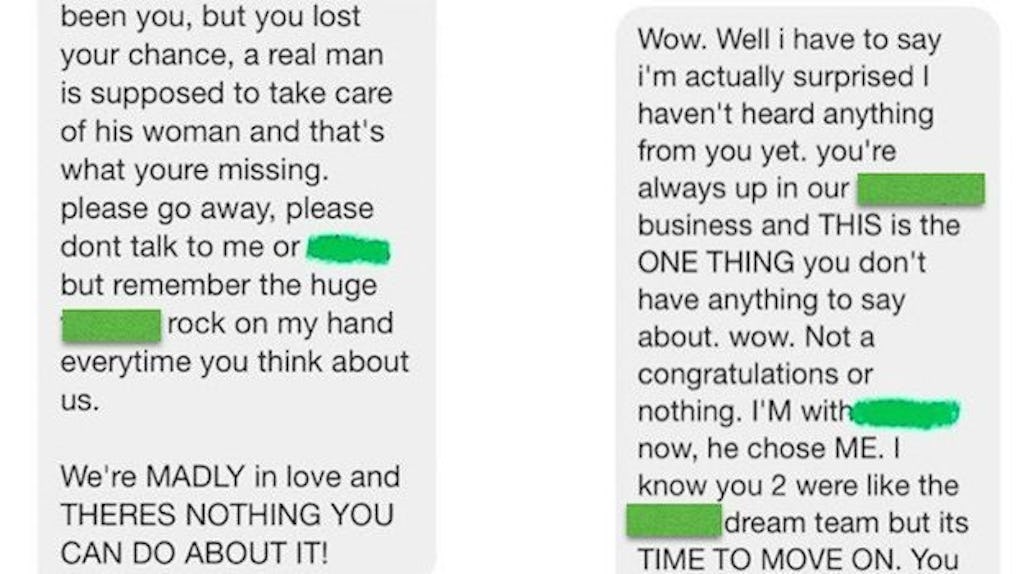 Imgur
Newly Engaged Woman Goes Batsh*t Crazy On Her Fiancé's Ex-Girlfriend (Photos)
LISTEN, HONEY!
YOU HAD YOUR CHANCE AT MARRYIN' A REAL MAN AND BEING A PRINCESS WITH HIM AND NOT HAVING TO BUY YOUR OWN CAR, BUT YOU GAVE IT ALL AWAY, SO MOVE ON!
This JEALOUS IMGUR POSTER shared a series of texts she was RIGHTFULLY SENT after not contacting her ex-boyfriend's now-fiancée in almost four years.
You're NOT going to wish her a congratulations after not speaking for four years?!?! CLINGY MUCH?!!? MOVE ON!
A DANG PRINCESS, OK?!?! A PRINCESS WHO DOESN'T BUY HER OWN DANG CAR! MOVE ON!
GET YOUR BUTT OUTTA THIS NEW AND ROCK-SOLID-NEVER-GOING-TO-END MARRIAGE! MOVE ON!
LOOK! AT MY RING! LOOK AT MY RING EVEN CLOSER! MOVE ON!
Is this chain of text messages exclusively aired on FX? Because, as far as I can tell, they're "Justified."
#NailedIt