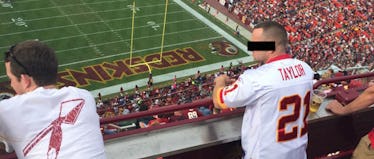 Woman Caught Giving A Guy A Blowjob In Public At A Football Game (NSFW Photos)
Deadspin
I'm not sure this couple understands the custom of live sporting events.
Perhaps the man and woman pictured below are visiting the fine city of Washington, DC from a place where public displays of beej-ing are the norm.
During Sunday's game, the Redskins went head to head with the Buccaneers, and some lady went head to head with a guy in a Taylor jersey.
The sports fan who allegedly snapped the pic told Deadspin the pair did not appear to be dating but maintained some pretty explicit contact throughout the game.
Things escalated swiftly between the man and woman, despite attending with a group of six other people and, you know, an entire stadium full of innocent bystanders who did not ask to see some dude dangling out of his boot cut jeans.
The anonymous photographer shared,
They were pretty much being inappropriate the whole time. With the guy in the Taylor jersey even going as far as motor boating the woman in front of everyone with her clothes on of course…we noticed the girl stumble to the ground and didn't get back up. All you saw was head movement from our angle. In the picture you can see his pants lower than normal. It's stopped when someone came up to them and said get a room. Followed by a lot of laughter from them.
HAHAHAHA WHOOPS! Haha, oh gosh. Sometimes, you don't even realize you're doing sexy time until someone points it out to you. It's just like walking out of the bathroom with toilet paper on your shoe!
Realizing this was an anything-goes sort of stadium, pals of the duo decided to get in on the fun.
A guy in a Griffin jersey and some lady with nice taste in leather boots picked up where the original pair left off.
I hope someone else paid for the two women's tickets because while the guys still caught the game, the ladies missed pretty much every major play.
Citations: Skins Fan Enjoys Obstructed View (Deadspin)