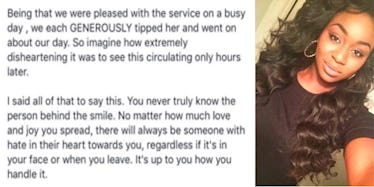 This Woman Had The Best Response To A Waitress's Racist Snapchat About Her
Twitter/Chelsea Mayes
Racism. No matter how hard we try, we just can't seem to shrug it off.
Chelsea Mayes is the latest victim.
She left a Cheddar's restaurant in Murfreesboro, Tennessee, over the weekend having had a wonderful time with her friends.
Days later, a friend sent her a screenshot of a Snapchat.
The snap showed a waitress from the restaurant pulling a face at the camera with the caption,
I am so hungover. And I have a section full of niggers right now.
Chelsea told the Daily News Journal she was "shocked" by the "hurtful" comment.
She said the group spoke with the waitress while she served them and they connected over church.
But after learning about the snap, Chelsea posted a powerful response on Facebook.
She wrote,
I'm personally extremely proud of myself. If this had have been Chelsea a couple of years ago, Cheddars would have been flipped upside down. But now I just feel sorry for her. This "nigger" is pretty nice. This "nigger" is actually enjoying your company. This "nigger" is praying for you. This "nigger" loves you and there's nothing you can do about it.
She signs off with a kissy emoji and drops the mic.
The server was reportedly fired.
Lee Greer, of Mint Julep Restaurant Management Group, said,
We, ourselves, were shocked and offended after learning one of our servers had posted comments on social media that were hurtful and derogatory. This type of behavior will never be tolerated in our restaurants.
Citations: DNJ