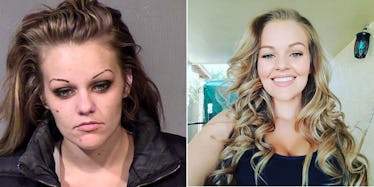 Woman's Before-And-After Pics Show How Much You Change When Addicted To Heroin
Police/ Facebook
Dejah Hall, a 26-year-old woman from Arizona, celebrated four years of sobriety on December 6.
The recovering addict posted photos on her Facebook page alongside an emotional description that describes her timeline to recovery -- and now, she looks incredible.
In the eye-opening post, Hall wrote,
Today marks 4 years clean from heroin and meth. The top left is me in full blown addiction , I was a terrible iv user and like most, progressively got worse.
She continued, saying,
The bottom left is me the day I was arrested 12-6-12 and coincidentally the day I finally surrendered to God! With the help of God I am completing my BA and hope to one day be a prison minister.
Hall ended the post, and wrote,
I have a beautiful 18 month old and everyday I thank God that I am not where I once was! #Sobriety is #Possible 12/6/12.
Since Hall shared the before and after photos on Facebook, she's gotten a ton of praise and respect from friends, family, and strangers who are proud of her recovery.
Although she looks more healthy than ever, Hall's road to sobriety was not an easy one. Her addiction to drugs started when she was a teenager.
Apparently, the mother spoke with MailOnline about her drug-use timeline, explaining she began using painkillers as a teenager.
It wasn't long before she entered the world of heroin after a friend offered her a hit of the deadly drug.
Hall said,
The addict side of me came out and I said I would just take one but one wasn't enough. By the second hit I fell in love with the high. It was numbing.
Soon after she tried heroin, the woman began using meth regularly. She described herself as "a monster in every way."
However, Hall began to see the light at the end of the tunnel after she visited her grandfather for his birthday in 2012 -- a time when she was injecting meth and heroin.
Apparently, her grandfather told her that "she was hurting him." A few hours later, she was arrested for possession of dangerous drugs and paraphernalia.
When Hall went to jail two weeks later, her grandfather died, and she quit "cold turkey" there.
Since then, she's reached to God for help through her recovery and became close with her family again.
She doesn't hang out with drug users anymore, either. She told MailOnline,
I don't crave those drugs anymore. I don't hang with those people anymore - people on those drugs don't care. You don't care who you hurt.
Dejah hopes her viral status will be an eye-opener for other drug addicts, to let them know recovery is possible.
Citations: MailOnline