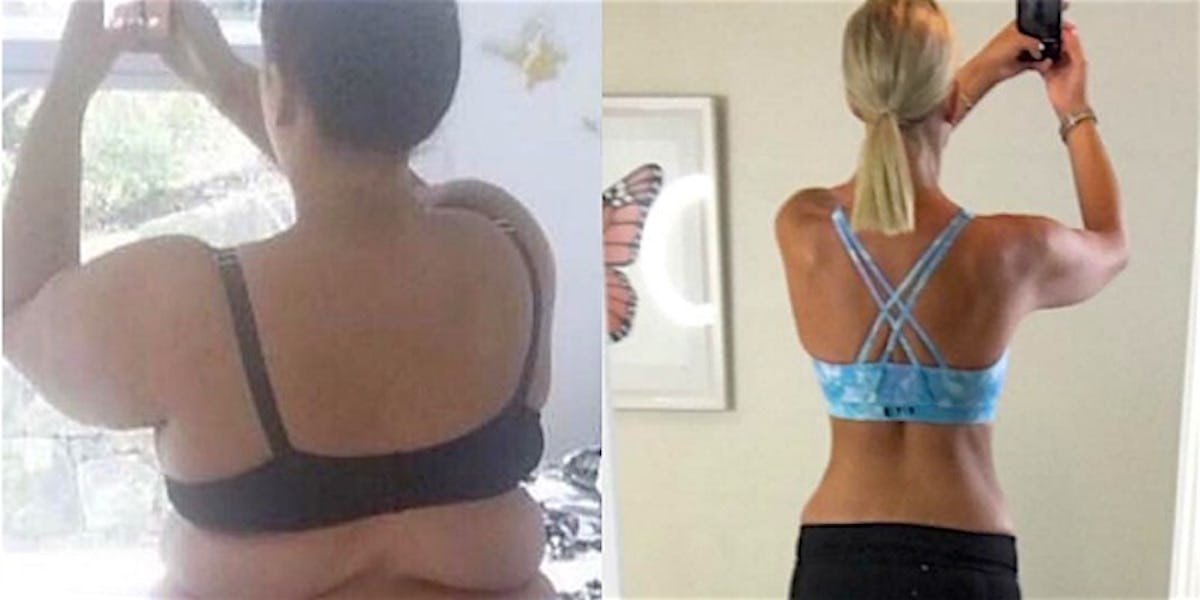 Woman's Extreme Weight Loss Transformation Video Has The Internet Mesmerized
Simone Anderson
A few months ago, freelance makeup and hair stylist Simone Anderson Pretscherer posted a controversial before and after shot of her extreme weight loss journey, and it had fans thinking that she had faked it.
You know, because people can't proudly post pictures of the results of their hard work without trolls spoiling them with negative comments.
People seriously didn't believe her. I mean, yes, she does look like a completely different person. But she also has the entire journey documented on her Instagram, and has always been very honest.
Earlier this week, Simone posted a video that showed off her complete two-year weight loss transformation from start to finish. The video is absolutely mesmerizing. I've watched it three times already because her change looks so dramatic.
I guess that's what happens when you bust your ass and go from weighing 372 pounds to 169 pounds. She lost just over 200 pounds. It's incredible.
Again, the pounds didn't fall off overnight.
In the description under the video, Simone admits that she has tried fad diets in the past, only to gain all of that weight back (and more) soon after. She didn't see results until she made major changes to her lifestyle.
She writes,
I made the decision to overhaul my entire diet, mind set and lifestyle. What a journey it has been from 169kg to 77kg! Looking back and remembering how many tears and emotions came before I pressed "post" I am so proud of myself for every single step I have gone through and having the guts to make my journey a public one. There have been so many days I have wanted to give up and revert to my old lifestyle, but I haven't.
Here's the video:
After receiving comments from fans saying that she was lying about her transformation, she posted this photo to reveal what really happens to your body after you lose over 150 pounds.
If this isn't proof, I don't know what is.
She frequently posts before and after shots of herself on Instagram. The weight may have come off, but obviously, she's still the same woman.
You can tell she's more confident now.
Her weight loss journey didn't just include a new diet and workout regimen. Simone also underwent several surgeries to fix the loose skin that resulted from dropping that much weight.
The 24-year-old has always been very transparent with her fans about her surgeries too.
I admire her dedication to completely transforming her body.
Simone's profile and documentation of her journey proves that even if you lose a lot of weight and start living a healthier life, it doesn't mean you've reached the finish line.
You can always keep improving, until you get to a place where you're satisfied with your body.
Citations: People can't believe this woman's amazing 14st weight loss (Metro UK)