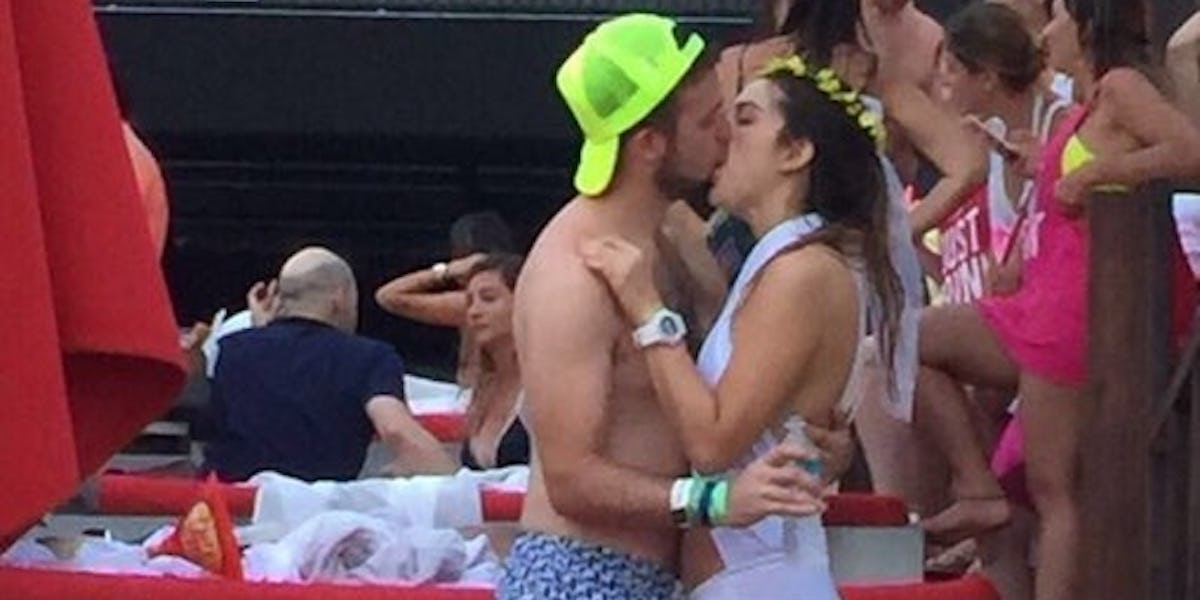 Wedding Called Off After Bride Made Out With A Rando At Bachelorette Party
Facebook
Let's face the facts here. Some people just aren't ready for marriage.
A lifetime commitment in which you're expected to remain loyal, monogamous and truthful to just one other person isn't to be toyed with.
That's exactly why a man named Pablo Torres Gandara had to pull the plug on a marrying Emma Ayala.
Like most brides-to-be, Emma ventured out to Mexico for her bachelorette party. Now, call me crazy, but I don't think anything good happens at parties in Playa del Carmen to begin with...
A f*cking bachelorette party in Playa del Carmen? Yeah, you're just asking for trouble. You might as well have just saved some money and went to Vegas if you were going to a sleazeball about it.
Emma couldn't keep her lips to herself. The ex-bride-to-be was filmed and pictured sucking face with a complete stranger during her bachelorette party.
The craziest part about this whole thing is that Pablo would have NEVER KNOWN if a bystander at the party hadn't snapped a photo of the excessive PDA and shared it on Twitter.
Ah, social media. The world can always count on you to bring the truth to light.
But wait, there's a video, too!
If you have the slightest clue about how the Internet works, you know it didn't take too long before heartbroken Pablo and his family saw the only proof they needed to cancel the wedding.
Hey, it's a good thing he didn't buy this woman a bigger diamond!
Am I right?!
I think we all learned a valuable lesson here -- know exactly who your bride-to-be or groom-to-be actually is before you trust them with your heart.
Furthermore, Playa del Carmen is for Spring Break in your college years, not your bachelorette party. Emma, you basically set yourself up for failure and now you will learn the hard way.
As for Pablo, Kanye West named an album after you. You'll be fine. Ladies, Pablo is single. Make your move.
Citations: Cheating Bride-To-Be Cancels Her Wedding After Video Surfaces Of Her Sucking Face With A Stranger On Her Bachelorette Party (BroBible)