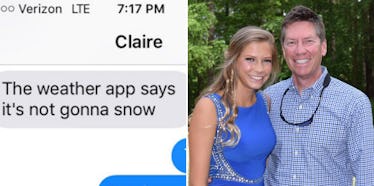 Weatherman's Ruthless Reply To Daughter Trolling His Job Has Internet In Tears
Twitter
Some parents really know how to come up with a response that puts kids in their place.
Case in point: Chris Holcomb.
As the Chief Meteorologist at WXIA-TV in Atlanta, Holcomb is no stranger to predicting what the weather has in store.
However, when Holcomb's 18-year-old daughter Claire decided to give her dear old dad a hard time about his forecast, he sent her a savage response that she never saw coming.
Apparently, Holcomb went on the air to report a high chance of snow showers, using some pretty convincing weather data and maps to back up his claim.
Holcomb told BuzzFeed News, "I showed the computer models with the scenarios and narrowed down my own hand-drawn map of accumulation totals. I was specific about when it would move in, when it would move out and how much snow each area would get."
However, after Holcomb wrapped up his forecast, he discovered a text from his daughter that challenged his weather authority by stating, "The weather app says it's not gonna to snow."
Holcomb was taken aback by his daughter's snide remark and told BuzzFeed News, "I just rolled my eyes and replied with 'thanks.'"
But apparently, hell hath no fury like a scorned meteorologist. This weatherman then decided to conjure up the most ruthless comeback in the history of dad texts.
Yeah, talk about a frosty forecast that seriously burns.
@ChrisHolcomb pic.twitter.com/H2vtWdFxwT — Matty Nice (@MattHiers) January 6, 2017
If shutting his daughter down with a single sentence isn't bad enough, this dad then decided to share his hilarious comeback on social media.
Text from my daughter. pic.twitter.com/LuC72xf05D — ChrisHolcomb11Alive (@ChrisHolcomb) January 6, 2017
Holcomb's post has since gone viral, racking up over 150,000 likes and myriad of comments from entertained Twitter users.
Many people are applauding this weatherdad for standing up to his daughter...
@ChrisHolcomb @sskolks pic.twitter.com/A1PGUftKcU — Jared Mastley (@JaredMastley) January 6, 2017
...and defending his winter forecast in typical dad fashion, of course.
A lot of people are also nominating his comical comeback as the best Tweet of the new year...
...and saying he can pay for their tuition instead of giving his doubting daughter money for her tuition.
Apparently, other meteorologists seem to be getting a kick out of this conversation as well, chiming in to show support for their fellow weather forecaster.
One weatherdad even said that he needed to save Holcomb's epic response for a rainy day.
Now for the question you're probably dying to know: Did it ever snow?
Holcomb told BuzzFeed News that it did snow — and there was even some ice.
However, Holcomb admitted that it didn't actually snow as much as he originally said it would.
Since both Holcomb and his daughter were technically right, you'll be glad to know that this weatherdad won't be giving Claire the cold shoulder when it comes time to pay for her college tuition.
Citations: A Weatherman Burned His Daughter Over Text And Now Other Weathermen Are Bonding Online (BuzzFeed News)