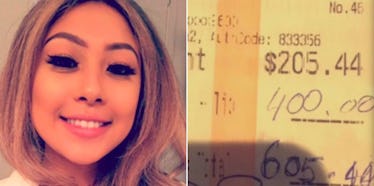 This Waitress Was Given $10,000 From A Couple For The Most Heartwarming Reason
Facebook
A hard-working waitress in Hawaii received the tip of a lifetime during one of her strenuous shifts earlier this week.
Cayla Chandara, 21, works doubles at two separate restaurants in Waikiki, Hawaii. She's employed by Cheesecake Factory during the day and Noi Thai Cuisine at night.
The go-getter moved to the island from Santa Rosa, California, for college, but needed to stop taking classes because she couldn't afford tuition.
Instead of falling into debt, the student took a break from classes and decided to earn money that she'd eventually put toward school expenses.
Based off the tip Cayla earned this week, she's definitely not going to need to worry about student debt anymore.
During one of her recent night shifts at Noi Thai Cuisine, Cayla waited on a couple from Australia who grew interested in her goals.
Cayla told KHON 2,
They asked me where I was from, and I told them I moved here for school but I was kind of in a little bit of debt and I couldn't go back to school, because I couldn't afford it and the cost of living here.
After the customers finished their meal, they paid Cayla and left the restaurant.
Moments later, she looked at the receipt and realized they left her a whopping $400 tip.
According to CBS, Cayla "was at a loss for words" and "wanted to hug them" after realizing the tip they left her.
Luckily, the couple told her what hotel they were staying at, so she brought them flowers and a thank you note as a token of her appreciation.
Just when Cayla thought she'd never see them again, a miracle happened.
The next day, the couple came back to the restaurant and wanted to give her $10,000 to pay for her student debt.
At first, she refused to accept the money -- but the couple insisted.
Cayla said,
I initially told them I couldn't take that offer, but they insisted that it would be just as great for them to do it for me.
Cayla eventually accepted the generous offer, and plans on returning to school this fall to pursue Liberal Arts and Business.
Referring to the anonymous couple, she said,
They told me the best way to thank them is to be my best possible self, dream big and strive for my goals.
Citations: Couple leaves Hawaii waitress big tip, even more generous offer (KHON 2), Strangers bring waitress to tears with $400 tip, then even bigger surprise (CBS News), VIDEO: For This Waitress, A $400 Tip Was Just The Beginning 2 (Civil Beat)