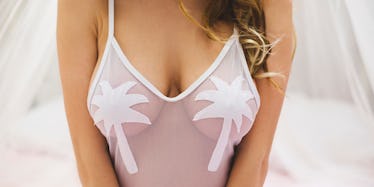 Vogue Says Boobs Are Officially Out Of Fashion And Twitter Isn't Having It
If you're someone who rocks plunging necklines on the reg, you might want to button up your blouse and grab a box of tissues.
I'm about to share some seriously depressing news with you: Vogue – aka the ruler of all things fashion – has just declared the glorious era of showing off your cleavage has finally come to an end.
That's right. The news that boobs are officially out of fashion comes after British Vogue shared an article from its upcoming December issue.
The article, titled "Desperately Seeking Cleavage," delves into the gradual disappearance of breast-baring styles from high fashion, and ultimately questions the role of cleavage in future fashion.
The decree on cleavage no longer being in style came about when the author of the article, Kathleen Baird-Murray, noticed a decline in "pertinently pushed-up breasts everywhere from the runway to the red carpet."
Baird-Murray also highlights the rise of high necklines and pussy bows in the latest fashion trends, ultimately concluding, "The tits will not be out for the lads. Or for anyone else, for that matter."
Now, before you spiral into an all out panic, take a deep breath and calm your tits.
It turns out a lot of ladies out there are not on board with Vogue's drastic decision to send the almighty boob gap to the style grave.
@BritishVogue @KathleenBM Definitely flaunt it! pic.twitter.com/uMLIZVUYX2 — Dana Taylor (@dana3775) November 3, 2016
British Vogue also got the Twitterverse buzzing about this busty subject by posting a poll that asked readers to weigh in on the boob-baring debacle.
As you can see, flaunting one's cleavage racked up the most votes. So, people are clearly not amused by Vogue's latest style statement.
In fact, this poll actually gave Twitter users a lot of strong feelings on the subject.
Some people condemned Vogue's ridiculous claim that cleavage is over.
Many made comments about how this whole thing must be some sort of absurd joke.
Others made the argument our bodies aren't runway trends.
They insisted cleavage is in no way a fashion accessory.
Other women took a more body positive approach by pointing out that all figures are fashionable.
They urged the high fashion mag to stop making women feel bad about their bodies.
Because let's be real: The only thing that should be going out of style is body-shaming, not boobs.
Men also weighed in on the issue. It should come as no surprise they were pro-cleavage.
Finally, there were a few people who actually tried to defend Vogue by clarifying the point the magazine was apparently trying to make.
But these people didn't do much to deter others from bashing the British fashion magazine.
Sorry, Vogue. It looks like cleavage is here to stay for now.
Citations: Metro UK