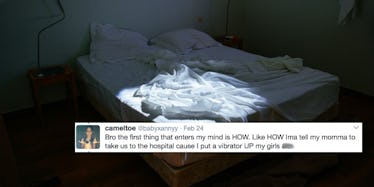 Man Tweets Harrowing Tale Of Getting Vibrator Stuck In GF's Butt
J.R. Photography
Here's a perfect example of why we need more advanced sex education in our country.
Sure, we know how to put a condom on a banana, and maybe we learned to turn one into a dental dam as well, but there are certain things you should avoid while in the bedroom.
Obviously, if you're into it, don't avoid butt stuff. But you should avoid using a toy that doesn't have a flat base in the booty.
Why? Because your butt can suck a vibrator up and refuse to let it go.
One Twitter user found out the hard way when that happened to his girlfriend. Thankfully for us, he tweeted about the experience.
Aw, he used a smiley, little moon. I wonder what this story will be about?
Oh, it's that kind of story. Of course.
You probably know where this is heading, but let's keep going just for kicks.
Imagine the instant regret this bro must have felt.
How would you even attempt to go to your mom about a situation like this? Also, this guy was doing this kinky stuff while his mother was IN THE HOUSE WITH THEM?!
THIS FACE. I'M SCREAMING.
How would you even react if your partner was like, "IDK, push maybe?"
I would be like, "GET BETTER AT PROBLEM SOLVING OR ELSE STOP PUTTING STUFF UP MY BUTT."
Doctors have probably seen worse, TBH.
HIS MOM HEARD ALL OF THIS, THOUGH? I CANNOT BELIEVE THIS STORY.
DO PEOPLE ACTUALLY HAVE SEX WHILE THEIR PARENTS ARE HOME?! AM I FAR TOO PURE FOR THIS WORLD?
OK, the real moral of the story is this: Your butt toys should have a base so your butthole doesn't engulf a totally straight vibrator straight up into the infinite darkness.
Moral of the story part two is don't have sex while your mom's in the next room.
Moral of the story part three is always share stories like this on Twitter so we can all learn something together.