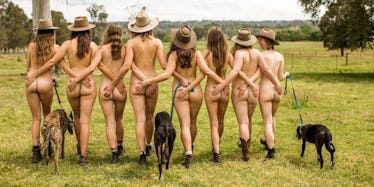 These Hot Australian Veterinarians Made A Naked Calendar For Charity
Free Range Vets
In case there was any doubt that Australians are actually as tan and hot as everyone seems to be convinced they are, a group of students studying to be veterinarians at the University of Sydney have come together to shoot a naked calendar.
Yep, you read that correctly. A NAKED calendar filled with hot, tan Australians who are smart and also love animals.
In what's possibly the sexiest tradition of all time, students studying to be veterinarians at the University of Sydney get together every year to shoot a naked calendar that gets sold to raise funds for a charity of their choosing.
This year, the students took the tradition to a whole new level, when a record-breaking 75 students decided to get in their birthday suits and take part in the making of the calendar.
The calendar isn't just for shits, either. Every year, they sell it and donate all the proceeds to a charity of their choosing.
While last year's students decided to donate their money to farmers affected by droughts, this year's students chose Friends of the Hound, a greyhound adoption group.
Not sure whether or not you like dogs enough to bother donating? Maybe this photo of a sexy, shirtless veterinarian with a dog wrapped around his shoulders will help convince you:
Ellen Parker, one of the students in the super sexy (and also super charitable) calendar told Junkee picking Friends of the Hound was a no-brainer for her and her fellow students.
Why? Well, a recent Australian law was passed banning greyhound racing, which left plenty of greyhounds without homes. So Friends of the Hound is doing their best to find them shelter.
"When we were discussing which charity to support this year the greyhound ban had just been put in place," Parker said. "Whether or not you're pro-ban, greyhounds will always be looking for forever homes and we thought what better charity to support than one dedicated to caring for and re-homing greyhounds."
The students even made a super sexy behind-the-scenes video you can watch for more info (and some really cute cameos of farm animals) here:
If you want to do your part to help the homeless greyhounds (or if you just really want a calendar full of sexy, naked veterinarians), you can purchase your $20 calendar here.
Citations: A Bunch Of Uni Students Have Shot A Nude Calendar To Help Raise Money For Greyhounds (Junkee)