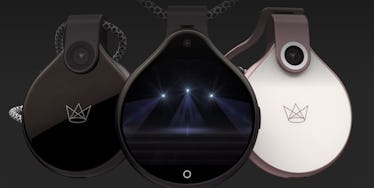 Much Needed Necklace Will Live Stream Your Life, So Look Away From Your Phone
Frontrow.com
Think back to your last concert. What was the best moment of the show? I'm willing to bet you recorded it on your phone, but didn't actually get to see it live and in color. All concert goers, myself included, have this compulsion to tape what's in front of them so they can hang onto the moment forever. However, you and I end up missing what's right before our eyes in the process. But now, Ubiquiti's FrontRow Necklace will film your life for you, so you can be present and rewatch whatever you've filmed... but you don't have to be the videographer. Score!
The smartwatch-sized device allows you to hook up to iOS or Android by way of an app so you can film that long-awaited event you've been dying to attend. What looks like some sort of necklace is actually a device with a built-in camera. The capabilities are similar to that of a GoPro, so you know you're going to be able to get good footage. However, your new challenge will be figuring out how to position yourself and stand still enough to capture what's going on. It'll take some practice, but it's certainly better than living life behind a screen.
The good news is that the battery life on the FrontRow necklace is substantial. The product allows for two hours of continuous live streaming, up to 16 hours when time lapses are thrown in, and up to 48 hours of standby time, according to Mashable. When you do need to stop and charge the necklace, you can do so with its USB-C port. And — added bonus — since there's a good chance this material is going to end up on social media at some point, the necklace saves you a step and supports video streaming to Facebook, Twitter, and YouTube.
Though a bit expensive at $399, it's totally worth the investment. Now you can go back to actually enjoying events and not worry about keeping your iPhone glued to your face. I might be grabbing my credit card as we speak.