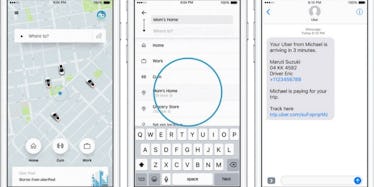 Uber's Convenient Update Lets You Order A Car For Your Parents When They Visit
Uber
After seven years of visiting me in New York City, my mom finally knows how to make her way to the taxi queue at JFK and hop in a yellow cab to Manhattan for a flat rate.
She does not, however, know how to order her own Uber ride.
How about your parents?
Some don't even know how to pronounce the life-changing app. My editor's mom calls it "Ubie," which is the cutest.
If you've already tried to teach your parents how to use it to no avail, Uber's newest feature is going to be a total game-changer.
Drum roll, please:
You can now order your 'rents a ride from your phone when they visit.
Uber announced its update on Tuesday, and we couldn't be happier.
All you need to do is set your start location to wherever they are (home, the airport, train station, etc.).
Uber will then ask you if the ride is for you or someone else (because it's so much farther than your current locale).
Select 'Someone else,' add their contact info from your address book, and then zero in on their final destination.
Once you've confirmed the ride, Uber will send your parents a text letting them know that their ride is on the way along with all the diver details and the fact that you're picking up the tab.
And just like that, you're the best adult kid any parent could ask for.
(If you don't want to pay for their ride, you do have the option to select cash.)
This exciting new feature has been rolled out in over 30 countries, so you can bet your parents will always have access to a safe ride — even if they don't own a smartphone.
Thank you, Uber. My mom is going to love knowing that I can order her rides all over the world.