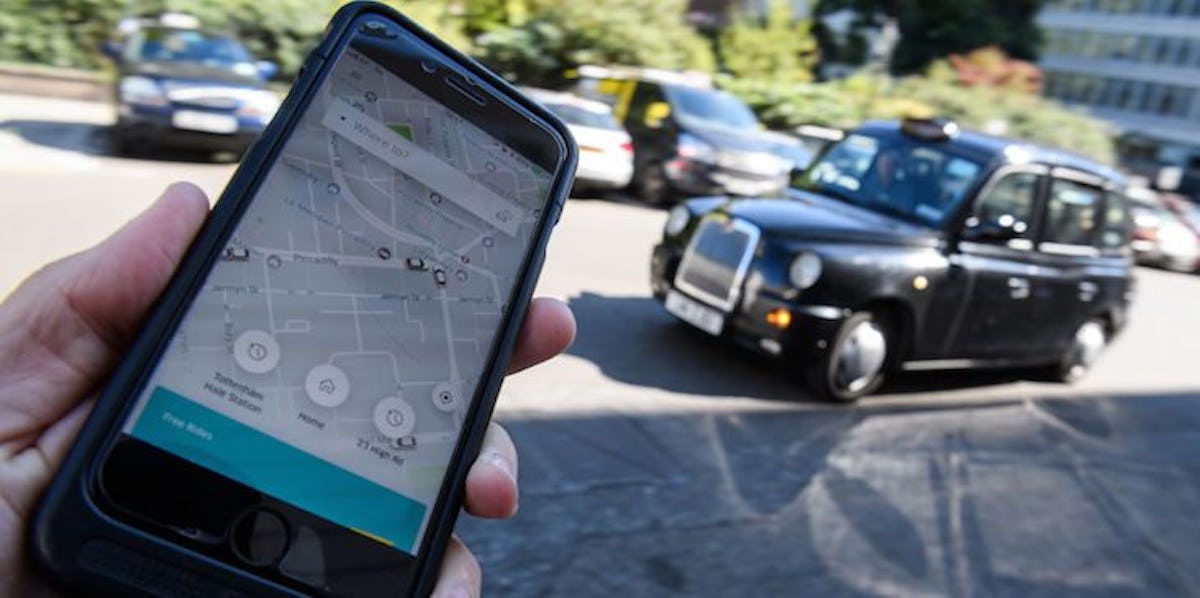 Uber Lost Its License In London And Citizens Are Having A Meltdown On Twitter
Leon Neal / Staff / Getty Images
Chances are when you're headed out of the house with your besties for a (possibly boozy) Friday night, one of you will request an Uber to get to your next stop. I bet it rarely even crosses your mind to try hailing a taxi anymore. Uber has become so commonplace among commuters because it's simple, cost-effective, and easy to split the cost of the trip with your fellow riders right there in the app. Unfortunately, Londoners may have to find a new way to get around because London's transport regulator has denied the application to renew its license to operate in London. This news has left many U.K. users of the service wondering how did Uber lose its London license, and they're taking to Twitter to make themselves heard.
According to Tech Crunch, Transport for London (TfL) issued a statement claiming that Uber is "not fit and proper to hold a private hire operator licence." TfL went on to explain that passenger safety is their paramount concern, and with that, private hires must meet the regulations set by the TfL, which are quite strict in order to ensure that an operator of a public transport vessel meets all of the standards before being issued a license for the job. In TfL's view, Uber in London has failed to live up to their corporate responsibility with respect to issues that can be a danger to the public.
The TfL is not currently satisfied, among other issues, with Uber's lack of reporting serious criminal offenses and lack of follow through on background checks of their driver. Tech Crunch reports that earlier this month, London's Metropolitan Police accused Uber in London of failing to report sexual assaults committed by their drivers, which sent a cross-party section of Members of Parliament (MP) into action by urging the TfL to take away Uber's operating license in London in order to better protect the public.
According to Tech Crunch, Uber claims to have nearly 3.5 million users and 40,000 drivers operating on its platform in the UK capital city. Tom Elvidge, the general manager of Uber in London, explained in a statement that the company will challenge this decision immediately. He went on to claim the company has always adhered to the TfL's strict regulations in its hiring process, and then he went further to say that recording Uber trips with GPS further enhances the security of the passenger.
While Uber appeals the decision, riders have taken to Twitter to display their displeasure with the TfL's decision.
They're already brainstorming cost-effective alternatives to Uber.
Taking applications for emergency boyfriends -- central London only, please.
Some realized there may be even more severe implications of a London without Uber.
No one wants to go back to riding black cabs (London's taxis).
So, black cabs are like really expensive?
This news really has Uber users in London shook.
Maybe there is a silver lining, though.
Perhaps an old-school tactic is the solution?
While Uber loyalists are not happy with this recent decision by the TfL, they might not need to panic just yet. According to Tech Crunch, Uber has 21 days to appeal a licensing decision, and the company can continue to operate throughout the appeal process.
The TfL's main gripes seem to be that they believe Uber is circumventing important regulatory precesses to ensure the safety of its passengers in London. If this is found to be true, hopefully Uber can make the necessary changes to ensure that Londoners can still benefit from app, while also making sure that their safety is the number one concern. If Uber proves that it is already following the strict regulations, then riders all over London can continue to enjoy use of the ride-sharing app.
In the end, safety is paramount, and the hope is that Uber can provide that and affordable transportation for its users -- no one wants to spend their life savings on a taxi.
Check out the entire Gen Why series and other videos on Facebook and the Bustle app across Apple TV, Roku, and Amazon Fire TV.