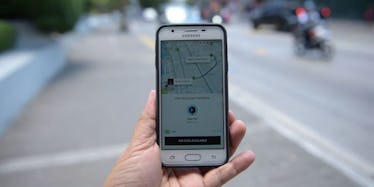 Uber Is Getting Rid Of Its Creepiest Tracking Feature, So We Can All Sleep Again
TED ALJIBE / Getty Imeges
If you're a fan of Uber, then you're probably aware that the app has a creepy feature that tracks your location up to five minutes after you've been dropped off at your destination. If the thought, "Is Uber tracking my location?" keeps you up at night, I have good news. Uber is getting rid of that invasive location feature, so you can finally stop worrying.
This change came as a result of Uber trying to fix its reputation after different instances where users felt like their privacy was being compromised. The news came on Tuesday, Aug. 29, and Uber will roll out the new tracking rules on Apple phones later this week. There's no word on when Android will get rid of the location feature.
With the invasive feature gone, the only time you have to share your location is when you're actually using the app. In other words, you won't feel like you're being stalked by Uber anymore. When the location feature was first introduced to Uber in 2016, the only options you had for location services were to "never" have your location on or to "always" have it on; there was no in-between.
If you opted to "never" have the feature on, that meant every time you ordered a ride you had to manually enter your location.
Uber's chief security officer, Joe Sullivan, told Reuters that ever since he joined the company in 2015, he's been working tirelessly to better Uber's customer policy. Sullivan also said that if Uber decides to bring the polarizing location feature back to the app, it'll be sure to explain why it's important and allow users to opt out if they see fit.
After settling with the Federal Trade Commission (FTC) over complaints that the company failed to protect its user's privacy, Uber has promised to conduct an audit every two years for the next 20 years to make sure it's complying with the FTC's requirements.
I think the lesson here is if you want a successful app, don't compromise people's privacy.