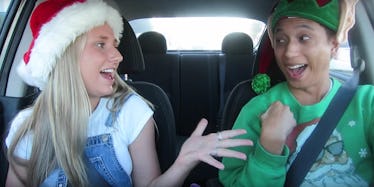 Uber Driver Gets Passengers To Sing Along To Mariah Carey's Christmas Opus
YouTube
Whether you're a fan of Mariah Carey or not, you have to admit that the woman has blessed us with quite a few classic Christmas songs during her career.
I mean, what better way to celebrate the holidays than to dance around your Christmas tree to the cheerful tune of "All I Want For Christmas?!"
It just doesn't get any more festive than that, folks. That's precisely why one Uber driver is using the classic holiday tune to get his passengers in the Christmas spirit.
In a new video uploaded to YouTube by Do Good Jonathan, we're introduced to Jonathan the Uber driver and the many different passengers he picks up throughout the day.
The video's description reads,
I put on an elf hat, an ugly Christmas sweater, and filled my car with Christmas props before playing Mariah Carey's "All I Want For Xmas Is You!" for the riders who got into my car!
The avid YouTuber provides his passengers with all sorts of awesome gear to wear while they belt out every word to Mariah Carey's Christmas masterpiece. He even gives them instruments so they can play along with the music.
I don't know about you, but I think every Uber driver should do this during the month of December. After a long day at the office or school, wouldn't it be kind of therapeutic to sing your heart out with a total stranger and then act like it never even happened?!
People who commented on the video totally agree. The love poured in with comments like, "I need a lit Uber driver" and "I want an Uber driver like you." Satisfaction guaranteed!
Now, THIS is how you get a five-star rating. Other Uber drivers would be smart to take notes!
Check out the epic, Christmassy video above.
Citations: Uber driver delights passengers with holiday surprise (Mashable)