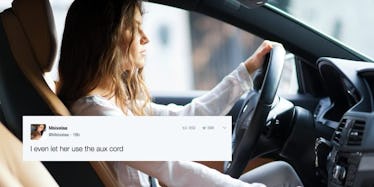 Uber Driver Catches Her BF Cheating After Driving His Sidepiece To His Apartment
Shutterstock
Being an Uber driver isn't easy.
Just imagine all of the drunken passengers you'd have to deal with on a nightly basis. Imagine dealing with the rude riders who swear you're their personal assistant.
And then there are the people who treat your personal car as if it were their personal trash can. All of that is enough for me to stay the hell away from life as an Uber driver.
I'll stick to being a rare customer, thanks!
But believe it or not, there are much worse experiences you might be subjected to if you drive for the popular ride-sharing app.
Just ask Twitter user Msixelaa. 
She went viral after live-tweeting her terrifying tale about the time she caught her boyfriend cheating when she realized she was driving his sidepiece to his apartment. 
I know we haven't quite gotten to the story yet, but I think this calls for a premature facepalm...
This is the story of #UberBae.
Uber driver Msixelaa has the internet on the edge of its seat after live-tweeting the unfortunate discovery of her boyfriend's sidepiece.
Here's how the groundbreaking discovery began...
As usual, everything seemed normal at first.
This is a continuation of the last tweet...
Msixelaa's man even "packed" his luggage for his fake-ass trip "out of town."
Let's fast forward a bit, shall we?
Uh-oh! She's getting closer.
Finally, Msixelaa spotted her boyfriend's car.
She was right. The girl was her boyfriend's sidepiece. *Sigh*
The next 100 tweets basically state Msixelaa began fighting her now ex-boyfriend just before his sidepiece tried to jump in and hit her back in retaliation.
The last straw for Msixelaa was when her ex decided to defend his sidepiece against her. She says she slowly began making her way toward her car before jumping in and leaving...
Little did the sidepiece know, her luggage was still in the trunk!
After she left, she texted her cheating BF wearing some of his sidepiece's belongings.
Things escalated rather quickly.
She then sent these last couple of messages, and the rest is history!
It's so sad it had to end this way, isn't it?
Oh, and in case you were wondering, Msixelaa is now single and ready to mingle so shoot your shot...
Just make sure you're not going to cheat on her, though. She WILL find out!
Citations: Uber Driver Drops What Turns Out To Be Her Boyfriend's Sidepiece Off At His Apartment, Live Tweets It And Goes Viral #UberBae (Barstool Sports)