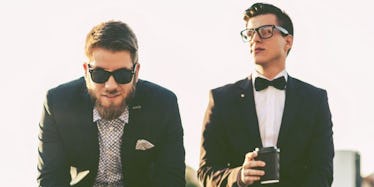 Millennials Buy More Of This Type Of Alcohol Than Anyone Else In The US
Getty Images
For Millennials who are serious about drinking, wine is barely alcohol, but that doesn't stop them from drinking more of it than any other demographic.
According to research from Wine Market Council, Millennials downed almost half of America's wine in 2015.
To put it in perspective, that's 159.6 million cases of wine staining the teeth of US drinkers aged 21 to 38, or two cases of wine per person on average.
The Snapchat generation reportedly drinks wine from Oregon, Chile and Greece and is more willing than other age groups to spend $20 for a bottle that, let's face it, gets downed with the ferocity of someone chugging Gatorade during a hangover.
A taste for wine goes beyond every individual's love of gracefully swirling a glass full of cabernet in his or her palm like a James Bond villain, but I suspect that aspect is a huge part of it.
What up, haters? We Millennials are classy as sh*t.
*gently slaps a bag of Franzia Sunset Blush*
Citations: Millennials Are Now the Largest Group of Wine Drinkers in America (Complex), Study: Millennials drink nearly half of all wine in the U.S. (USA TODAY)