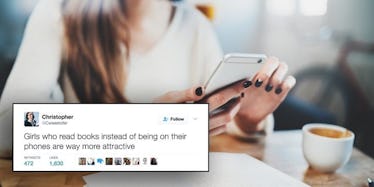 Twitter Trolls Guy Who Likes 'Girls Who Read' After Spotting An Ironic Detail
Shutterstock/Twitter
Does anybody actually read their tweets anymore before they send them out?
Perhaps it's because the leader of the free world has normalized this behavior by flying off the handle on Twitter on a near-daily basis — but still. I can't wrap my head around the stupidity sometimes.
Christopher, @cweestofer, is the latest ding-dong to tweet out complete and utter nonsense.
Christopher posted this just the other day:
Doesn't that tweet just... sound wrong to you?
That's because it kind of is wrong (at least in this day and age).
First, the obvious must be pointed out.
Is this Christopher's way of debuting his new invention that allows you to tweet from a book!?!
Or maybe it's his cue to us about his newfound career path.
Either way, it's definitely worth noting the very foundation of Christopher's tweet is actually totally unfounded.
He should know his time could almost certainly be better spent doing literally anything else...
...because these girls he feels the need to judge do not give even a semblance of a shit about what he thinks.
YEAH, CHRISTOPHER — THIS SHOULD BE NO PROBLEM FOR A BIG FAN SUCH AS YOURSELF.
As you can see, Twitter had a downright hissy fit over Christopher's tweet, and with good reason.
First of all, it's 2017. Technology has blessed us with the ability to read just about anything on a smartphone, tablet, laptop, you name it.
Secondly, what does someone like Christopher stand to gain from trying to make girls compare themselves to one another in this way? Why should we feel as if our own personal hobbies and interests are a competition we have to try to win?
I'm not better than other girls just because I like to read in my free time, nor am I any worse than other girls because I do a lot of my reading on my iPhone.
Take that, Christopher.
Citations: @cweestofer (Twitter)