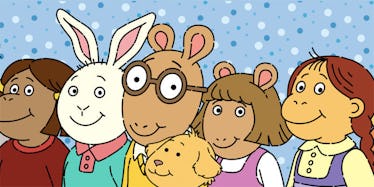 The Internet Is Reacting To Literally Everything With This Fire 'Arthur' Meme
PBS
The genius behind the best internet memes is truly a mystery. They just sort of happen, like, out of nowhere.
No one knew who started the Mr. Krabs blur meme, but it was hilarious at its peak.
We still don't know who started the Crying Jordan face, but it's practically a universal symbol of sadness.
So yeah, you can never truly know where the greatest internet memes originated from. But if you're lucky enough, you can witness it catch fire in real time.
Wednesday night was one of those instances. At some point after most of Twitter seemed to have fallen asleep -- following all the talk about Barack Obama's speech, of course -- somehow, someway, there was the birth of the next great internet meme: a random screenshot from the PBS cartoon "Arthur."
Yes, that's right. Arthur's clenched fist is the newest Twitter sensation, and it's bound to slowly invade your timeline as people use it to vent about their most frustrating yet hilarious times.
The meme is an instant hit.
It's so good, people have already jumped to the next level, using all sorts of "Arthur" screenshots.
And then there are a couple that let you know this was probably created on Black Twitter.
When Twitter makes one of your favorite childhood cartoons into an A+ you just have to say, "Hey, what a wonderful kind of day."