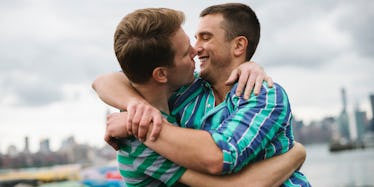 24 Tweets Celebrating National Coming Out Day That Will Give You All The Feels
Today is National Coming Out Day!
To celebrate, people all over the world have been posting awesome, inspirational quotes honoring members of the LGBTQ+ community, no matter where they are in their coming out journeys.
The overarching message? Come out when you're ready. And when you do, you have an entire extended family of people waiting to welcome you with open arms.
Whether or not you consider yourself a member of the LGBTQ+ community, read these to give your heart a little love boost.
Here are 24 of my personal favorites Tweets that I promise will make you feel happy, empowered, safe and wonderful:
1. Never let anyone tell you how to be yourself.
2. Don't waste energy on people who don't accept you for who you are.
3. Bisexuality IS actually a thing.
4. Let's hope one day there will be no need to "come out."
5. There's no pressure to come out if you're not ready.
6. Be proud of yourself for living your truth.
7. You are ahhhmazing.
8. You can confirm the rumors.
9. Don't forget these important reminders.
10. Stay true to you.
11. It's totally OK to take your time.
12. If it doesn't happen today, everything will still be OK.
13. You are loved.
14. There's a whole community waiting to accept you.
15. This is not the time to out someone.
16. Be yourself.
17. Coming out won't be a big deal to the people who know and love you best.
18. Come out on your own terms.
19. Being gay is a wonderful thing.
20. Today is a day to be happy.
21. Good luck and be strong.
22. Don't give up.
23. It doesn't matter where you are in your coming out journey.
24. You have an entire family ready to support you.
Have your own inspirational message you want to share with the world? Be sure to tweet it out with the hashtag #NationalComingOutDay.
Let's keep on celebrating being out and proud!