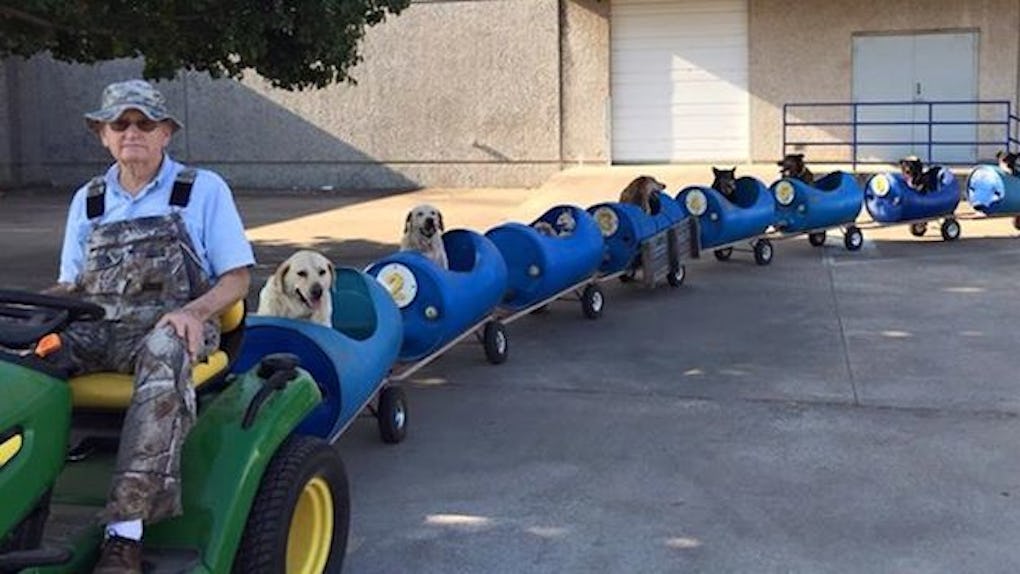 Facebook
This Man Built A Train To Drive All Of His Rescue Dogs Around Town
Eugene Bostick might be the coolest old man ever.
After retiring about 15 years ago, the then-65-year-old Texan discovered his passion for helping the needy — specifically, animals in need.
Since then, he dedicated his life to rescuing stray dogs in need of a home.
Bostick told The Dodo,
We live down on a dead-end street, where me and my brother have a horse barn. People sometimes come by and dump dogs out here, leaving them to starve. So, we started feeding them, letting them in, taking them to the vet to get them spayed and neutered. We made a place for them to live.
After a while, the Fort Worth, Texas native accumulated so many dogs, it became hard to take them all out at once.
But one day, Bostick saw a man pulling a makeshift train around with a tractor.
That's when an idea struck.
He recalled,
I [saw] this guy with a tractor who attached these carts to pull rocks. I thought, 'Dang, that would do for a dog train.' I'm a pretty good welder, so I took these plastic barrels with holes cut in them, and put wheels under them and tied them together.
The train he built became the perfect way to cart around his many pups and provides a pretty stellar attraction for his neighbors in Fort Worth.
Bostick is now something of a legend in Texas, where the now-80-year-old can often be seen carting his nine rescue dogs around town.
While his neighbors love the pup truck, perhaps nobody enjoys it as much as the lucky dogs do.
Bostick said, "The dogs have a great time. They just really enjoy it."
Though he's "getting up in age," Bostick plans to continue with the doggy train as long as possible.
I won't argue with that. Check out the adorable video below to see the train in action.
Citations: Man Builds Dog Train To Take Rescued Pups Out On Little Adventures (The Dodo)