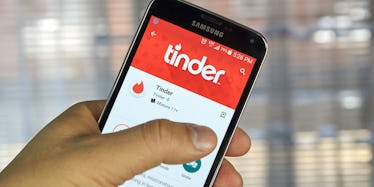 There's Going To Be A Movie About Tinder And The Plot Sounds Too Damn Real
Shutterstock
ALL THE YESES.
I have no idea how I didn't see this coming, but there's a movie about Tinder in the works.
It's called "Worst Tinder Date Ever"and is being developed by Warner Bros.
You'll be excited to know the romantic comedy is the brainchild of Keith Merryman and David A. Newman — writers of "Friends With Benefits."
These guys will be under a huge amount of pressure. I've had my fair share of outrageous Tinder dates and have heard even worse. So coming up with the worst Tinder date of all time will be a challenge, to say the least.
What? You want to hear mine?
Oh, OK then ...
Not too long ago I met up a girl at a popular (and fairly seedy) first-date place in the center of London.
On paper, we had so much in common. She was a journalist, she had family in my hometown, etc., etc.
So we're a few glasses of wine down when we decide to grab some food. It's going well, even if the conversation isn't flowing as loosely as I'd hoped.
A few more hours, a cheeky kiss and a couple of tequilas later, she invites me back to hers.
We're chatting about our music interests in the Uber when we pass a lively bar near her house.
"Oh, I've always wanted to try this place," she squeals excitably. "And I think tonight they've got a live band on. Wanna go?"
"Sure."
We stop the Uber and dive in the bar. We get talking to a couple of girls. I go to the toilet, come back, she's gone. It's busy, so I assume she's lost in the crowd and head to the bar to order a couple of beers.
Suddenly, I spot her.
She's dancing with one of the girls. They're grinding on each other. Now they're kissing — with far more passion than she was kissing me.
What just happened here?
I watch them awkwardly before interrupting.
"For context, what's going on here?" I ask.
My date explains bluntly, "Well, I'm bisexual, and tonight I'm leaning more towards women."
Cool.
With nothing to lose, I ask for a threesome. Naturally. That went down like a turd sandwich with the other girl.
"What kind of girl do you think I am?" she snapped. Erm, I dunno, the kind who steals dates, maybe?
I went home alone shortly after, confused and horny.