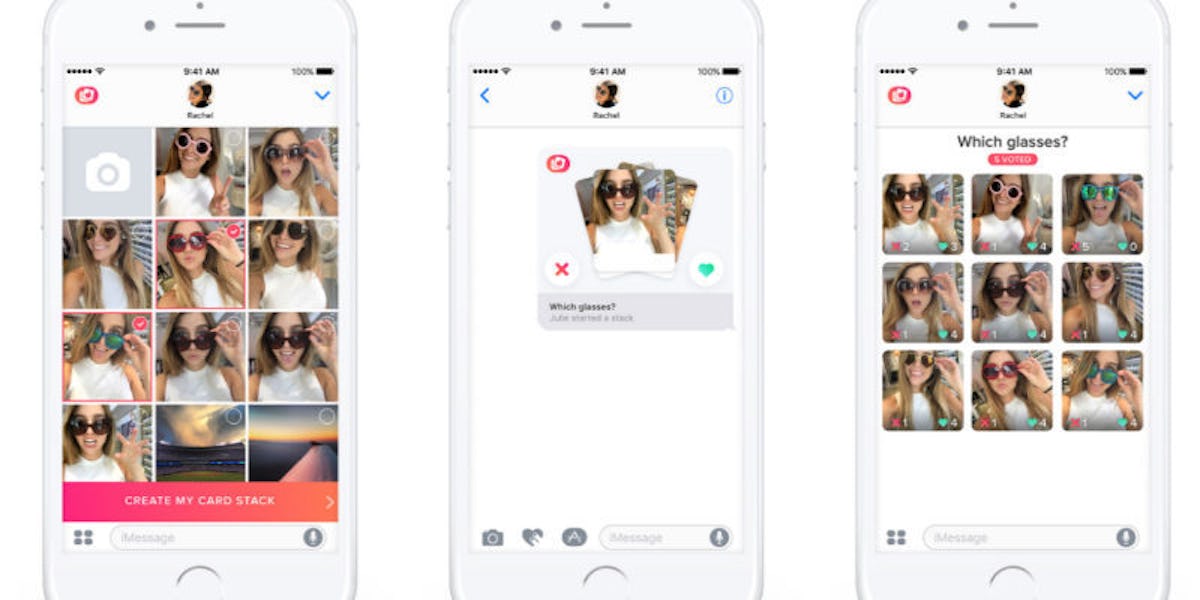 Tinder Has Invaded iMessage Allowing You To Swipe And Text Simultaneously
Tinder
Tinder is a strangely addicting thing.
Since you don't see who doesn't actually swipe left on you, your ego is never really bruised.
You can judge people based on a short bio and six pictures literally anywhere, including from your very own toilet.
If you swipe left enough, Tinder will show you the same people, as if they're asking you, "Lower your expectations yet?"
Sometimes I swipe left so many times they show me a member of a gender I am not interested in, like, "Mmm... girl, you sure you aren't into this?"
Now, thankfully, I can use my swiping skills in iMessage.
But... if only I could find love...
Tinder Stacks is a new app that lets people create "stacks" of pictures that they can swipe through on iMessage.
Your friends can also"vote" on collections of photos while you're still texting.
This is probably a feature best used for when I ask my friends for their input on my dating profile.
"Does this picture make me look like a sexy spam robot, or just a regular heartless robot?"
The experience is totally separate from the dating app, but you do need to have Tinder in order to use it.
So if your significant other catches you still on Tinder it is also a great excuse.
"Baby, I just have it for the stacks!" (Don't actually do this, you trash person.)
Before you can run the app you have to make sure your iPhone is running iOS 10.
Then you can just create a "stack" from photos on your camera roll and send the images to your friends. You can even watch which ones they vote for in iMessage.
We're wondering where Tinder will try to implement their iconic "swipe right to like" technology next?
Well, what other areas of my life need improvement besides my social one? Can I swipe left on some student loans? Maybe on my imminent liver failure?
Citations: Introducing Tinder Stacks for iMessage – Swipe on Everything (Tinder)