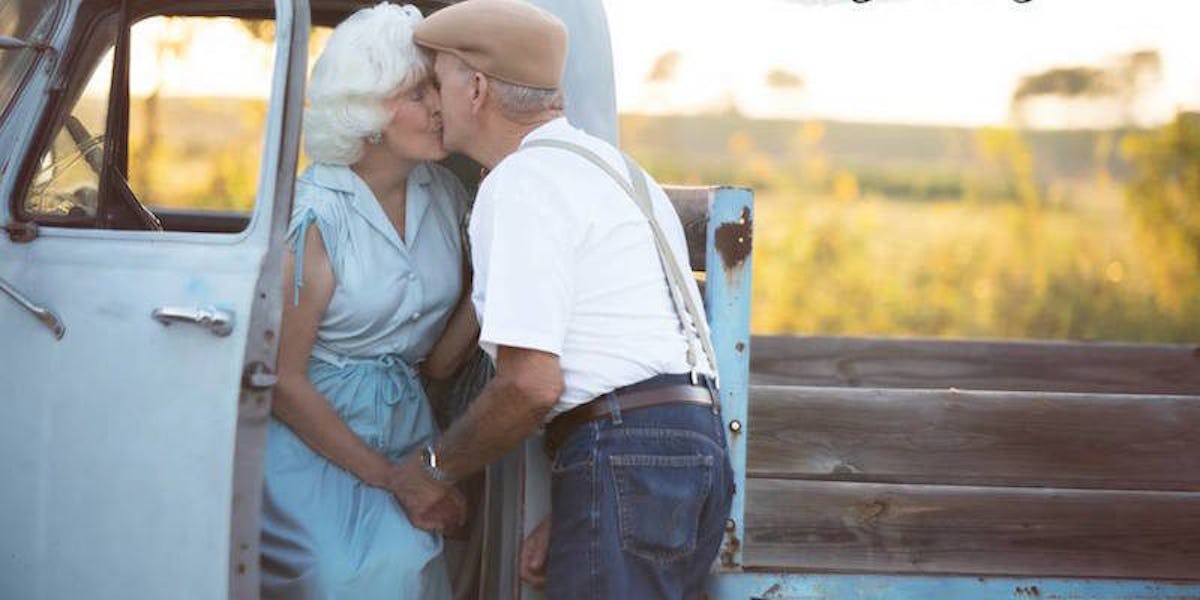 Elderly Couple's Photo Shoot Inspired By 'The Notebook' Will Give You All The Feels
Mary Evelyn Photography
Seventy-six-year-old Clemma Elmore has been with the love of her life, Sterling, for 57 years now. It was love at first sight for the couple who married just four months after they first started dating.
The couple also loves the movie, "The Notebook." In fact, it's one of their favorite movies of all time.
So last week, the Oklahoma couple decided to celebrate almost 60 years of their fairytale romance with a fairytale photo shoot inspired by the film, complete with Noah's blue truck, a stack of love letters and original 1940s outfits.
Clemma told a local news station, "I love that movie. We both love that movie. Such a sweet movie. We have seen it twice." So their granddaughter Amber got in touch with Stacy Welch-Christ for Mary Evelyn Photography to arrange a "The Notebook" inspired photo shoot — and it's going to give you all the feels.
The two tied the knot in February of 1959. Clemma said the first time Sterling saw her, he thought to himself, "That's the girl I'm going to marry." But, she was actually the one who wound up proposing.
And what's their key to such a long-lasting, wonderful marriage? Clemma explained, "We never fail to tell each other, probably 10 times a day, 'I love you.'"
CUE THE WATERWORKS. LOVE IS REAL! LOVE IS REAL! LOVE IS REEEEEAL!
Stacy, their photographer, shared the pictures from the photo shoot on her Facebook page this past weekend, and — lucky for you — I have them here for you.
Take a gander and REJOICE.
Here they are holding each other like they are just so comfortable and happy and in love.
Here they are LOLing at what's probably some 60-year-old inside joke.
Here they are giving their granddaughter, Amber, a smooch.
Here is Clemma holding a stack of love letters not unlike the ones in "The Notebook."
Here is their actual notebook filled with actual love letters.
Here they are having a hot, steamy kiss outside the pickup truck to prove you can still keep the spice alive, even after six decades together.
There you have it, guys.
If that didn't make your day, you hate love and you're evil.
Citations: Couple celebrate 57 years of marriage with photoshoot inspired by The Notebook (MetroNews)