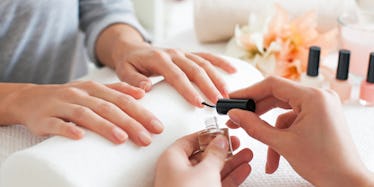 Teen's Hack To Choose A Nail Color At The Salon Is Genius And Twitter Is In Awe
Lumina
If you're as indecisive as I am, you probably know that choosing a nail color at the salon is a strenuous process that usually takes well over 30 minutes.
I mean, let's face it: The amount of polish colors to choose from is truly overwhelming, and trying to visualize what you'd look like with each hue on your fingertips takes a lot of thought and imagination.
Thankfully, an 18-year-old named Emma Young found a genius way to test nail colors at the salon without even opening a bottle of polish, and Twitter is seriously shook.
The teenager used a popular app called Snapchat (you might've heard of it) to assist her at the salon, and her technique is truly blowing my mind.
Based off Emma's now-viral tweet, she used Snapchat's custom stickers to help her choose the right nail color.
For those of you who are unaware, custom stickers on Snapchat allow users to make a sticker out of literally anything they want, and then re-use the image on different snaps.
So, Emma made a sticker of a sample nail color on display and then put the sticker on her actual nail through another snap. This way, she was able to virtually see which nail color looked best.
My mind is truly blown.
Apparently, thousands of people were equally impressed by her nail hack, and the tweet has gotten over 261,000 retweets in a matter of 3 days.
Emma talked to BuzzFeed News about the brilliant trick, and said,
Some people think it's awesome and other people think it's stupid, which is fine with me because I didn't take the tweet very seriously to begin with. It was just a lighthearted post about an idea that I had.
Well, it sure looks like a ton of people are thankful for her "lighthearted" post.
It's a serious life hack.
She deserves a round of applause.
Like I said, people are SHOOK.
Thank for the hack, Emma!
Next time you're at the nail salon, don't forget to use Snapchat so you can test the nail colors on your hands before breaking out the bottle.