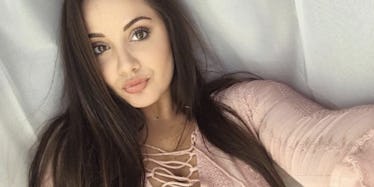 Teen Shamelessly Trolls Her School's Dress Code With Hilarious Yearbook Quote
Instagram
A graduating student called out her high school's ironic dress code in the most clever way possible: through her yearbook quote underneath her senior picture.
Tori DiPaolo, 18-year-old student at West Milford High School in New Jersey, told Elite Daily she finds her school's dress code reasonable, but also "unfair" because "they only enforce it on girls."
According to West Milford's dress code policy, "Halters, half-shirts, shorts, or sweaters and blouses that expose breasts or stomachs may not be worn. Shorts and skirts should not be a distraction."
When DiPaolo realized the robes that students had to wear during their senior pictures technically violated their dress code, she decided to poke fun at the policy through a witty yearbook quote.
TBH, Tori's quote is turning her into a freakin' legend.
The iconic quote reads, "I'm sorry, did my shoulders distract you from reading this quote?"
Like I said... legendary.
Tori talked to Elite Daily in detail about how she feels about her school dress code and why she was inspired her to rebel against it.
She tells Elite Daily,
My school's dress code is pretty reasonable, but they only ever enforce it on girls so I always found that unfair and I fought it a lot. I do think it's ridiculous that people have a problem with exposed shoulders.
She's right, though. The robe she's wearing for her senior picture does expose her shoulders, which makes the dress code a little hypocritical, in my opinion.
After she posted the picture of her yearbook quote on Twitter, people instantly praised her decision to speak up.
Tori told Elite Daily about the reactions she's been getting since posting the quote -- both positive and negative -- and tells us that she thinks it's "all funny."
She says,
Most people I know have reacted positively and laughed at it, which I'm happy about because that was my intention. Once this got popular online though, a lot of people had negative things to say because they took it to mean a lot more than it really did, but I don't mind. I just think it's all funny.
Regardless of what others think, her quote definitely made a statement about flaws in current dress codes that tons of women face on the reg.