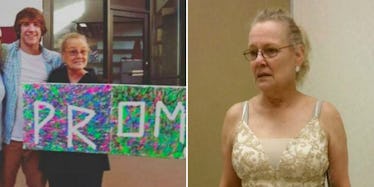 Teen Asked Grandma To Prom, But The Reason The School Said No Is Pure Nonsense
Facebook
Bryce Maine's grandmother never got to make it to her own high school prom, so when the high school senior in Eufaula, Alabama was thinking about whom he would take with him to the biggest dance of a high schooler's career, he had no doubts.
He told WTVM TV,
My grandma's always been an important part of my life, like, my only woman figure in my life, so I was thinking, 'Why not take her?'
Bryce bought a canvas and used his handprints to paint around the word "PROM" to ask Catherine Maine, his "Nanny." Nanny of course said yes.
She even bought a brand new dress for the dance on April 8.
Except the buzzkill that is Eufaula High School Principal Steve Hawkins told Bryce he couldn't bring Nanny. Maine said,
I said, 'Give me one reason why.' And he said, 'Alcohol. In case, she was trying to distribute it to minors.'
This is, by far, the dumbest reasoning I have ever heard.
Nanny isn't going to bring booze to prom (I mean, probably not more than everyone else will).
Bryce's cousin Sarah Catherine posted on Facebook about the principal's decision.
She wrote,
My blood is boiling right now... My little cousin Bryce wanted to take our Grandma to his senior Prom since she has never been. Well after she done bought her dress and made plans, the principal decided that they cannot do that anymore... Like really?! Eufaula High School let my Grandma go to Prom! *UPDATE* This has reached the board of education, and a teacher has called Bryce as well. They think if he takes Nanny to prom then future students will do it as a joke and make the school a mockery! And basically is wanting him to take this down.. It aint happening!
Uh... don't they realize prom is kind of a joke? Children dress up like they're royalty, wear flowers on their wrists and take a limo to the parking lot outside of the gym.
Hawkins released the following statement:
Safety of students and staff is the first and most important of the many tasks of a school administrator. For the 10 years I have been high school principal, we have denied requests each year from students asking to bring older dates to prom. We do not chance leaving any stone unturned when it comes to safety. Most high schools have an age limit for prom attendees.
And these rules do make sense, because there's plenty of old creepers dating high school students and they shouldn't be near kids that young.
But this is Nanny? How 'bout y'all chill?
While Nanny and Bryce may not attend prom, they do plan to dress up and go out to dinner together.
Citations: School Nixes Teen's Dream Of Giving Grandma Prom She Never Had (Huffington Post)