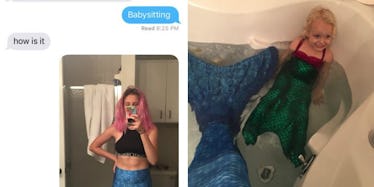 Teen Babysitter Makes Adorable 3-Year-Old's Day By Dressing Up As A Mermaid
Twitter
Keegan Carnahan is a 15-year-old from Florida.
Or so she says. But myself and the little girl she babysits, 3-year-old Alidy, know the truth.
It would seem Keegan Carnahan is a mermaid and from the ocean, possibly off the coast of Florida.
Keegan recently told BuzzFeed News,
[Alidy] had decided to wear her little mermaid outfit around the house that day and I thought it would be a fun surprise to bring out mine for her bath time.
She admitted,
I got [the tail] when I was 12 and was going through a phase.
This -- can we just admit -- is probably the coolest phase a 12-year-old could go through? Like, what awesome 12-year-old wants to get a mermaid tail? Did she wear it often? Did she take it to pool parties with her? I've got questions, Keegan.
You know what phase I went through when I was 12?
I watched "Moulin Rouge" every day after school, wore sweatbands around my wrist and wore a tie like Avril Lavigne.
I also did not know how to straighten my very, very frizzy hair. I was not a cool child.
Alidy already assumed Keegan was a real mermaid, thanks to her pink "mermaid" hair, but now that she knows her babysitter has a real mermaid tale she's more than convinced.
Alidy's mom Jenna Haslam says her mermaid costume is very important to her daughter. She's worn it every single day since her father died in November. Jenna said,
But nobody ever matches with her. She finally found someone to connect with again.
And I'm not crying, you're crying! My eyes are just sweating...
Obviously Keegan is a pretty awesome babysitter, and she may or may not have lured some men to their deaths in the ocean with her siren song like a real mermaid.
Citations: People Are Saying That This Teen Is The Best Babysitter After She Dressed Up As A Mermaid (Buzzfeed)