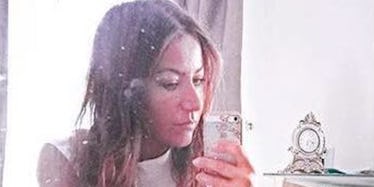 Teacher Suspended For 'Sultry' Pic Claps Back With Mantra We Should All Follow
Facebook
A teacher who was suspended for posting a "provocative" selfie on Facebook has brilliantly clapped back by sharing her golden rule for social media.
Students at Ousedale School in Newport Pagnell, England, rallied to support Lydia Ferguson after they overheard school officials describing the photo as "sultry" and "inappropriate."
This is the picture that got her suspended:
Teenagers at the school even started a campaign to bring her back, the Milton Keynes Citizen reported, but the mom of three has now proved she can defend herself.
On Facebook, she asked a friend who complimented the picture if she thought it was inappropriate.
When the woman said "no," Ferguson replied,
Thank you for that, I don't think it's seductive or inappropriate either. I've always stuck to a rule on FB and Insta that if my Grandad bless his heart would look at any of my pictures in disgust, then I would never post them.
Shots fired.
But forget pictures, I think that's a pretty excellent rule for social media in general.
The "controversial" image shows Ferguson sitting on the edge of her bed, wearing a white dress.
Apparently, it was enough to upset school bosses, who told off the teacher during a heated discussion that students filmed on their cell phones.
But it's clear where the children's loyalties lie, with one telling the Milton Keynes Citizen,
Miss Ferguson was saying she didn't think there was anything wrong with the photo. All it was showing was a bit of leg.
Another said,
There is nothing wrong with the photo at all. We think Miss looks lovely.
And a third student added,
She is a brilliant teacher. She is there to help students who have problems like bullying and stuff. She does so much to help us and we're so upset she's been suspended.
Their petition titled "Get Miss Ferguson Back" has collected about 250 signatures (including signatures from parents as well).
Principal Sue Carbert told the Milton Keynes Citizen,
If we have any concerns about a staff member, this would not be discussed with students. We are aware of rumors, but conclusions are being drawn which have no factual basis.
Citations: Pupils defend Milton Keynes teacher suspended over 'inappropriate' selfie shot Read more at: http://www.miltonkeynes.co.uk/news/pupils-defend-milton-keynes-teacher-suspended-over-inappropriate-selfie-shot-1-7890876 (Milton Keynes Citizen)