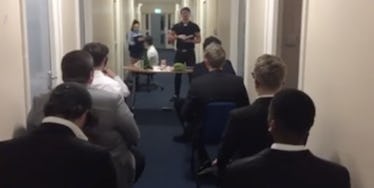 Guys Hold Surprisingly Moving Funeral For Friend Who's Always With New GF
Facebook
Some of us are a little more bitter than others when Valentine's Day comes around.
Perhaps it's because you're single. Perhaps it's because all your favorite chocolates are completely out of stock right now.
Ben Hull, on the other hand, has his boxers in a bunch because his closest buddy's life was tragically taken... by a new girlfriend. When that happens, the only proper thing to do is hold a funeral for your fallen friend.
Nineteen-year-old Hull and his friends paid their respects to their dear bro, Adam Milner, a student at St. Mary's University in Twickenham.
Hull told BuzzFeed News,
We all live on a floor together and spend a lot of time going out to nights out and all sorts. Then suddenly he got a girlfriend, and we saw him less and less.
Several friends gathered to remember pre-relationship Milner. They set up a table with a picture of him, as well as some of his favorite things, including video games and a pack of cigarettes.
The memorial began with the spine-tingling "See You Again" by Charlie Puth and Wiz Khalifa, which played as Hull read aloud a touching speech dedicated to Milner.
Hull read, choking back tears,
Don't worry, boys. I'll still have time for you.
"WHERE ARE YOU ADAM? WHERE ARE YOU?" he cried out in agony.
Then the boys sang a heart-wrenching, a capella rendition of "Can't Take My Eyes Off Of You" by Frankie Valli that may or may not have moved me to tears.
Now, were they tears of empathetic sadness, or tears of jovial laughter? Don't concern yourself with such details.
The memorial came to a close as A Great Big World's "Say Something (I'm Giving Up On You)" played solemnly in the background.
Apparently, Milner was in his room for the entire duration of the funeral.
Hull said,
We didn't think it'd be right for him to attend. Afterward, Adam thanked us all for our hard work. He also said he would look over all of us.
RIP, Adam Milner. We'll see you on the other side.
Citations: This Guy's Friends Held A Funeral For Him After He Got A Girlfriend (BuzzFeed News)