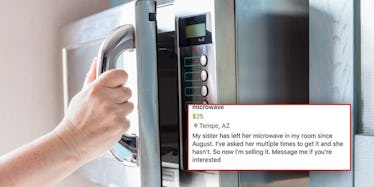 Student's Genius Way To Measure Microwave For Sale Is Peak College
Shutterstock
Let's play a word association game. What's the first thing that comes to mind when you hear the word "college?"
Oh, it's not "microwave?" Well, how about "broke?"
Let's face it, college-age adults are one of the most confused, hilarious and poorly-paid demographics in the country.
So it comes as no surprise that after getting fed up with his sister's clutter, Arizona State University student Mat George decided to make an easy profit.
After leaving her microwave in his room for almost nine months, George took matters into his own hands and posted on The ASU List, which is a university-exclusive Facebook group where students can buy and sell anything, within reason, in a safe space.
The group has over 12,ooo members, so the odds that he would successfully sell the microwave were high.
The initial post is pretty tame...
It reads,
My sister has left her microwave in my room since August. I've asked her multiple times to get it and she hasn't. So now I'm selling it. Message me if you're interest.
Some people expressed interest in the comments section, but when a guy asked if George had the measurements, things got really college, really fast.
George's response was,
I don't have a tape measure but it's about as tall as a fifth of berry New Amsterdam and has the length of a berry and mango fifth of  New Am(sterdam).
That's right -- he used vodka to measure his microwave. Because inches really mean nothing, but everyone in college knows about how big a New Amsterdam fifth is.
(Also as a side note, he forgot to tell us the depth measurement, but it looks to be about one-fifth of Fireball deep.)
The post went viral when a student from ASU posted the exchange on Twitter with the caption, "I love ASU."
We hope he uses the money from the sold microwave to get a tape measure.